Go-It-Alone Economist at It Again as Chile Woes Spur Rates Call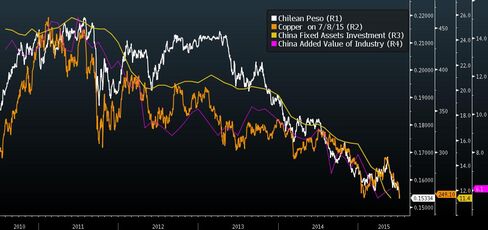 Jorge Selaive, chief Chile economist at Banco Bilbao Vizcaya Argentaria SA, has a history of going out on a limb.
Two years ago, he was the first analyst to say the nation's statistics agency was underestimating inflation by using out-of-date prices. Two months later, the head of the agency quit and Chile redesigned its price index to reflect faster cost-of-living increases. Last year, he was the sole economist to forecast that Chile would cut interest rates to 3.25 percent in August. He was wrong at the time, but was proven correct a month later.
Now, Selaive is at it again. At a time when swaps traders and economists say the central bank's next move will be to raise rates to combat inflation, Selaive predicts policy makers will instead chop borrowing costs this year. He points to an economy that hasn't grown at all for two months, as well as the sinking price of copper, which makes up about half of Chile's exports.
"We need more monetary stimulus," the 43-year-old Selaive, who changed his call earlier this month, said from Santiago. He projects Chile will lower its key rate by at least 0.5 percentage point by year-end to 2.5 percent.
No other economist surveyed by Bloomberg forecasts a cut for this year, while the median estimate is for the central bank to lift the rate in first three months of 2016. Swap traders expect an increase after February and investors surveyed by the central bank on Tuesday say the hike will come after July.
Copper Sinks
The central bank's most recent forecast, reiterated June 26 in minutes from its last meeting, is that the economy will accelerate in the second half and rate increases will start early next year. Chile's peso gained 0.9 percent Thursday to 646.66 per dollar as of 12:58 p.m. in New York.
Selaive's decision to break from the pack comes as Chile's economy is besieged by bad news. Floods in the usually parched north of the country derailed industrial production earlier this year. That's been followed by everything from a drought to a smog emergency and teacher strikes. The price of copper plunged to the lowest since 2009 on Tuesday as demand from China, the biggest buyer of the metal, wanes.
And while economists at banks such as JPMorgan Chase & Co. and Morgan Stanley acknowledge Chile's mounting economic woes, Selaive, a former central bank economist, isn't winning any converts.
Inflation Jumps
"The door for additional monetary stimulus is already closed despite subpar growth," Iker Cabiedes, an economist at JPMorgan, said by e-mail from New York. "Disappointing growth could bias the central bank to postpone an eventual rate hike next year, but shouldn't prompt more rate cuts this year."
That view has gained currency in the rate-swaps market, where traders as recently as March were betting Chile would raise borrowing costs twice this year.
"I agree with the consensus that the next move will be a hike, but the incoming data suggests it may be delayed into next year," Luis Arcentales, an economist at Morgan Stanley, said from New York.
Selaive is undeterred even as a report yesterday showed consumer prices rose more than expected in June, pushing up inflation for the first time in eight months. At 4.4 percent, cost-of-living increases exceed the central bank's target range. Finance Minister Rodrigo Valdes said Monday he expects prices to rise faster than forecast.
"Even if you take the inflation that the market and the central bank are forecasting, you still should cut rates," Selaive said.
Before it's here, it's on the Bloomberg Terminal.
LEARN MORE