FIFA Bans Chuck Blazer From Soccer Activities for Life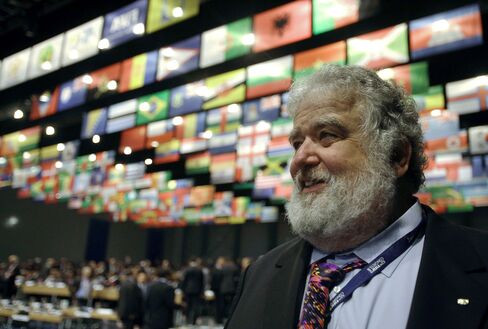 FIFA said its independent ethics committee banned Chuck Blazer, a former executive committee member, from soccer-related activities for life.
Blazer, who was head of soccer's governing body for North and Central America and the Caribbean, pleaded guilty to 10 crimes including bribery and tax evasion.
The 70-year-old New Yorker emerged as a key cooperating witness in a sweeping U.S. investigation into corruption at FIFA, the global soccer body based in Zurich. Confronted with his own tax problems by the Internal Revenue Service years ago, Blazer agreed to wear a hidden microphone in meeting with FIFA officials.
"Blazer committed many and various acts of misconduct continuously and repeatedly during his time as an official in different high-ranking and influential positions at FIFA and Concacaf," FIFA said in an e-mailed statement. "He was a key player in schemes involving the offer, acceptance, payment and receipt of undisclosed and illegal payments, bribes and kickbacks as well as other money-making schemes."
FIFA said it suspended its investigation into Blazer in May 2013 because of his ill health and because he was no longer involved in the sport. It resumed the probe in December, which led to the lifetime ban.
Before it's here, it's on the Bloomberg Terminal.
LEARN MORE