Europe Bank Bulls Are Waiting in the Wings as Greece Fears Wane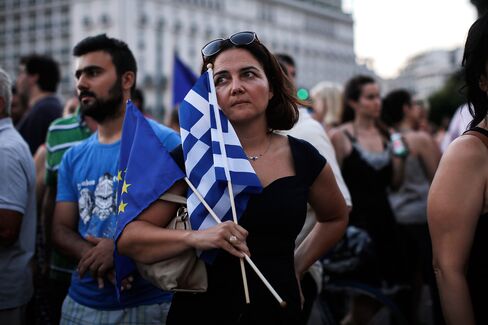 When it comes to volatility in European banks, investors are better off just waiting it out.
At least that's what the options market is signaling, with the longer-term cost of protecting against losses in lenders hovering at the cheapest level since 2012 relative to one-month contracts.
Back-and-forth debt talks and concern of spillover effect have wreaked havoc on markets, especially banks. A gauge tracking European lenders has tumbled 7.3 percent since June 26 -- the day Prime Minister Alexis Tsipras unexpectedly called a vote on whether Greeks should accept creditor demands.
Yet that volatility may prove temporary. HSBC Holdings Plc wrote in a note this week that banks' exposure to Greece has been significantly reduced, and with lenders in better shape than during the previous Greek crisis, increased stock swings are a buying opportunity.
"Yes, there's high volatility on banks because of the bad news surrounding Greece fears," said Kevin Lilley, the London-based head of European equities at Old Mutual Global Investors, which oversees about $34 billion. "But Europe is still in a recovery phase and banks are the best way to play that."
Before the selloff, Italian lenders led a 19 percent jump in banks since the start of the year, fueled by optimism bond buying by the European Central Bank will boost economic growth. Banks contributed the biggest gains to the Stoxx Europe 600 Index today, with the STOXX 600 Banks Index rallying 1.9 percent.
Now, fears of contagion into so-called peripheral nations have increased the cost of options protecting against losses on Italian firms such as Intesa Sanpaolo SpA and UniCredit SpA. Prices to hedge are close to the highest in at least two years versus those betting the shares will gain.
Latest Setback
Greek turmoil is only the latest setback for European banks. U.S. regulators told Royal Bank of Scotland Group Plc this month it faces a fine over mishandling mortgage securities. Switzerland's Julius Baer Group Ltd. said in June it'll take a provision to settle a U.S. tax evasion probe.
The European Banking Authority warned on July 3 that while exposure to Greek borrowers by the 200 major non-Greek banks in Europe is limited, "indirect channels of contagion remain a concern."
That's one of the reasons the region's lenders aren't compelling enough to buy, says Tom Stubbe Olsen, founder of European Value Partners AG in Zollikon, Switzerland.
"The stress on banks seems to be ongoing," said Olsen, who manages about $1.9 billion. "Things are reaching a stage where the spillover effect in the rest of Europe is going to be felt. Until we see a resolution and we can see a clear path, it's very difficult to invest."
QE Effect
But in the longer term, the promise of more central-bank stimulus makes banks attractive, said Wei Li of BlackRock Inc., the world's largest money manager. Lenders in Europe trade at a price-to-book multiple that is 46 percent below the Stoxx 600's valuation, data compiled by Bloomberg show.
"QE raised expectations of an increase in bank earnings, and the sector is more cheaply valued compared to other cyclicals," Li, an investment strategist, said on Tuesday in Zurich. Her firm oversees about $4.8 trillion. "The trigger for buying banks would be more clarity on Greece."
Read this next:
Before it's here, it's on the Bloomberg Terminal.
LEARN MORE