Draghi's Greek Don't-Know Shows Euro Savior at Limit of Powers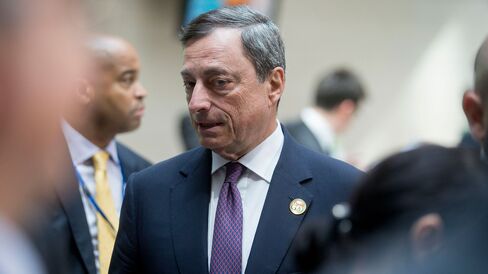 If you want a sign of how close Greece is to exiting the euro, listen to Mario Draghi.
Three years after the European Central Bank president pledged to do "whatever it takes" to save the single currency, he's now showing doubts he keep can keep it whole.
As Draghi arrived in Rome on Wednesday morning after late-night talks in Brussels, he was asked by Italian reporters if he would be able to close the dossier on Greece. "I don't know," he replied, according to Il Sole 24 Ore and Corriere della Sera. "This time it's really difficult." An ECB spokesman declined to comment on the reports.
The remarks suggest Draghi's acceptance that the ECB's powers to keep the euro area from splintering aren't boundless. If governments fail to agree on a bailout deal that allows Greece to pay its creditors, including the ECB, monetary-policy makers may have no choice but to cut the purse strings that have kept the nation's financial system alive.
Back in 2012, bond yields were spiraling higher as investors bet the currency bloc would split apart, and countries from Ireland to Greece were locked into rescue programs. Draghi's July pledge that his measures to save the currency "will be enough," following up six weeks later with a bond-buying plan, worked to calm markets.
Government Role
This time, Greece is without an aid package after the newly elected Syriza party pushed negotiations past the June 30 expiry date of its latest program. That leaves it on the verge of running out of euros should it fail to make the deadline of a European summit on Sunday to strike a new deal.
Greek lenders have been shut and under capital controls for more than a week, and are surviving on almost 89 billion euros ($98 billion) of Emergency Liquidity Assistance from the nation's central bank. The ECB has the power to deny that aid, and Draghi is being pushed to do so if no agreement is reached.
"The Eurosystem should not increase the liquidity provision, and capital controls need to stay in force until an appropriate support package has been agreed by all parties and the solvency of both the Greek government and the Greek banking system has been ensured," Governing Council member Jens Weidmann said in Frankfurt on Thursday. "ELA is no longer being used to finance capital flight. This certainly represents a step forward, and shifts the responsibility to where it belongs: with the governments and parliaments."
'Much Worse'
Over in that domain, there's not much optimism.
German Chancellor Angela Merkel, who as head of Europe's biggest economy carries the most sway, is doubtful Greek Prime Minister Alexis Tsipras will deliver a credible plan, and is willing to accept a Greek exit, according to two government officials familiar with her strategy.
"A few months ago I wouldn't have believed that Greece would leave the euro area," ECB Governing Council member Ardo Hansson, the head of Estonia's central bank, said in an interview in Postimees newspaper "Now Greece's situation is much worse than it was even 10 days ago. The situation isn't hopeless but it is quickly and sharply deteriorating."
Ewald Nowotny, the governor of Austria's central bank, said in Frankfurt that Sunday was the last chance for Greece to reach a deal.
A rarer bright note came from Irish Finance Minister Michael Noonan, who put the probability of a Greek deal at "better than 50-50."
'Quite Serious'
"It seems now this is going to happen," he told Newstalk radio in Dublin. "It seems now they are quite serious."
If Noonan is wrong, the ECB will have to handle the consequences. That could mean continuing to provide liquidity while politicians either try again, or initiate the first-ever exit of a euro area member.
Euro-area officials have informally discussed an arrangement whereby the ECB maintains liquidity to Greek lenders as humanitarian assistance in return for a guarantee for the loans, according to people familiar with the matter. Weidmann said any short-term assistance to Greece must come from fiscal policy makers rather than central bankers.
One alternative for Greece was given little credence by Draghi on Wednesday, when he was asked by the Italian journalists if Russian President Vladimir Putin might call Tsipras and offer aid.
"I do not think that will happen," Draghi said, according to Il Sole. "It doesn't seem like a real risk. Also, they don't have money even for themselves."
Before it's here, it's on the Bloomberg Terminal.
LEARN MORE