As Fires Rage in North America, Neon Sunsets Dazzle Bostonians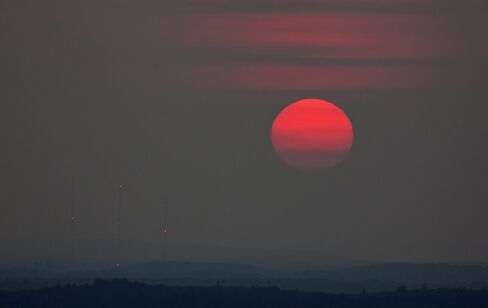 Forest fires combined with weather patterns across North America have formed a river of smoke that reaches from central Canada all the way to the U.S. East Coast.
At least 35 fires are raging out of control across Alberta, according to the website of the provincial ministry for Agriculture and Forestry. In neighboring Saskatchewan, there were 112 blazes as of Tuesday, the Ministry of Environment said.
More fires in Manitoba, around Vancouver and across Alaska are contributing to the smoke drifting over the continent, causing air quality problems in both countries and creating deep red sunsets for much of the eastern U.S.
Fires attack the boreal forests of Canada and Alaska each year, said Mark Ruminski, a satellite meteorologist and fire weather expert at the National Oceanic and Atmospheric Administration's Satellite Analysis Branch in College Park, Maryland.
"What seems to me to be unusual is how early it got started and how it is over a large area," Ruminski said.
There have been 583 fires in Saskatchewan this season, compared with 210 at this time last year, the environment ministry said. On Wednesday, air quality alerts covered large parts of Saskatchewan, Manitoba, western Ontario and southern British Columbia, Environment Canada reported. In the U.S., similar alerts were posted for Alaska and earlier this week for parts of Montana, North Dakota and South Dakota.
Lightning Blamed
Lightning caused many of Alberta's wildfires, the ministry of Agriculture and Forestry said. Ruminski said this isn't unusual. In June 2008, a single night of thunder and lightning sparked 1,700 fires across California.
Thunderstorms also help put the haze into the air and turn the sunsets red in New York and Boston. The summer storms suck the smoke up and pump it high into the sky, where it is picked up by the jet stream and carried thousands of miles.
The fires in Alberta have created a "river of smoke" that is easily seen in NASA satellite images. The closer a person is to the source of the flow, the harder it will be to breathe and see. The chances for air quality problems along the East Coast dwindle simply because by the time the smoke reaches the Atlantic's shores, it may be 20,000 feet high or more.
So for those people living near the flames, do what you can to protect yourselves. As for the rest of us, we may be treated to some dazzling sunsets for a few more weeks.
Before it's here, it's on the Bloomberg Terminal.
LEARN MORE