The One Place in Asia Where the U.S. Embraces China's Rise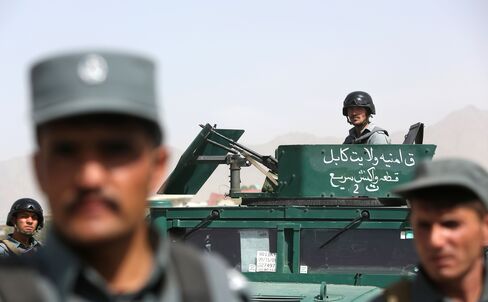 As tensions grow between the U.S. and China in the disputed seas of East Asia, some 3,000 miles away they are working together to bring peace to Afghanistan.
In a forested hill station northeast of Islamabad, American and Chinese officials joined the Afghan government and Taliban this week in their first formal meeting since the U.S.-led war began in 2001. In a small sign of success, the two sides agreed to meet again to discuss peace after the holy month of Ramadan.
The U.S. and China, often at loggerheads to assert their regional authority, are hoping their joint clout and resources can help resolve a conflict that has killed almost 100,000 people since 2001. Both nations want to ensure the region doesn't become a breeding ground for international terrorists, and they need each other to make it work.
The U.S. is providing the cash that keeps the Afghan government and military from crumbling, a scenario that took place in the 1990s after the Soviet Union withdrew. China is an ally and major donor of Pakistan, which has close ties with Taliban leaders and is essential to any lasting peace.
"The two countries may not agree on everything, but in Afghanistan they have a strong mutual stake in preventing further deterioration of security," Graeme Smith, a senior analyst of International Crisis Group based in the Afghan capital, said of the U.S. and China. "Kabul and Islamabad are accompanied to the negotiating table by their best allies."
U.S. Leaving
A political solution would make it easier for President Barack Obama to fulfill a promise to end America's longest war by the time he leaves office. After ending combat operations in December, he's already slowed down the planned withdrawal as the Taliban have made military gains.
Greater Chinese involvement would help the Afghan government earn more money, reducing a bill to U.S. taxpayers that's exceeding $700 billion. Foreign aid provides for about two-thirds of Afghanistan's budget, and that's unlikely to change for years.
"The U.S. is gradually disengaging from central Asia, including Afghanistan, while China is on the rise in the region," said Thomas Ruttig, co-director of the Kabul-based Afghanistan Analysts Network. China's multi-billion dollar investments on Asia-Europe transport routes have made it "more active now on Afghan peace."
Mineral Wealth
China is connected to Afghanistan by a narrow corridor wedged between Pakistan and Tajikistan, a potential trade route as it seeks to extend its westward footprint. It's also interested in tapping what Afghanistan says is $3 trillion in mineral wealth. A Chinese company owns the rights to one of Afghanistan's biggest investment pledges to date -- a stalled $3 billion copper mining project south of Kabul.
Yet a more immediate concern is terrorism. That same mountainous strip of land is a potential conduit for militants into Xinjiang, whose ethnic Uighur separatists are accused of bombings and attacks across the country. China has blamed overseas extremist groups for radicalizing Uighurs, a Muslim, Turkic-speaking minority that makes up about 45 percent of the territory's population.
"Xinjiang faces major security vulnerabilities, which would be worsened by lingering conflict between the Taliban and Kabul," said Yang Shu, director of the Institute for Central Asian Studies at Lanzhou University in China's western Gansu province. "That's the main reason why Beijing takes on the mediating role in Afghan peace talks."
Peace Push
China announced plans this year to spend $45 billion on infrastructure projects in Pakistan. That gives it new leverage over a government that needed an International Monetary Fund loan two years ago to avoid a balance-of-payments crisis.
A Taliban cease-fire will be discussed at the next meeting, which may be held in China, members of the Afghan delegation told reporters in Kabul on Thursday. Top Taliban officials and members of the Pakistan-based Haqqani network had attended the first round, said Faizullah Zaki, one of the six members.
China saw Tuesday's meeting between the Afghan government and Taliban as positive, Foreign Ministry spokeswoman Hua Chunying said in Beijing, according to Xinhua. It will cooperate with all countries involved, she said. Officials from the Kabul embassy represented the U.S. at the talks, which were "a step in the right direction," Mark Toner, a deputy spokesman at the State Department, told reporters.
Many obstacles to a deal remain. Taliban fighters are scattered across Afghanistan and Pakistan, and the group's political office in Qatar distanced itself from the talks.
Even so, for the first time in decades, the world's major powers see more gains from peace than war in Afghanistan.
"It's more a confluence of interests than an intent by the Chinese and Americans to cooperate," said Raffaello Pantucci, director of International Security Studies at the London-based Royal United Services Institute. "The Chinese have begun to realize that the Americans are moving away and suddenly they've got this big problem sitting on the border. It's a role that has somehow fallen onto them."
Before it's here, it's on the Bloomberg Terminal.
LEARN MORE