That Growing 'Global Middle Class' Is Still Poor by U.S. Standards
It comes down to how you define "middle income"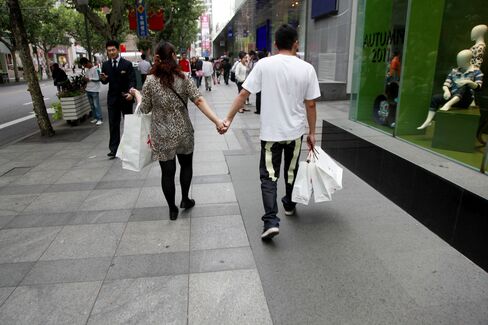 The first decade of the 21st century saw global poverty halved and the size of the global middle class nearly doubled. But don't get too excited about the coming of a new engine of growth: The "middle class'' is a matter of thresholds, and they're all relative.
In 2008, Goldman Sachs defined the middle-income range as making $16-$82 daily, estimating that 1.5 billion people had that status. The McKinsey Quarterly set a range of $9-$77 daily per capita income, pegging the size of the global middle class at nearly 2 billion in 2009.
These projections are misleading, according to a new report from the Pew Research Center that analyzes the daily per capita income of people in 111 countries from 2001 to 2011; they obscure the fact that the growth of the middle class was concentrated at the lower end of the income range.
During that decade, nearly 700 million people stepped out of poverty. (To look at it a different way, the share of people living on $2 or less per day declined from 29 percent to 15 percent.) But the majority of those people "took only a moderate step up the income ladder, changing their status from poor to low income,'' according to the Pew report. By 2011, more than 56 percent of the world's population lived on $2-$10 a day.
Pew said that's why it has defined the middle class as those who live on $10-$20 a day, or $14,600-$29,200 a year for a family of four. The share of people within this income range rose to 13 percent of the global population in 2011, from 7 percent in 2001.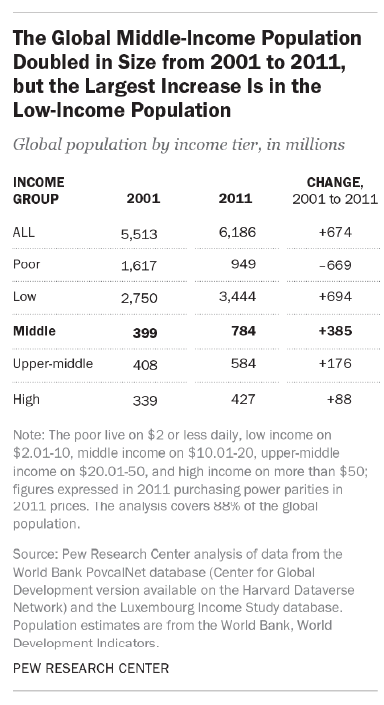 This global middle class is still poor when measured against the official poverty line in the U.S., which falls almost directly in the middle of Pew's range: $23,021 per year for a household of four.
In 2011, only 16 percent of the world's population was living on $20 or more daily, which by global standards constitutes upper-middle or high-income existence.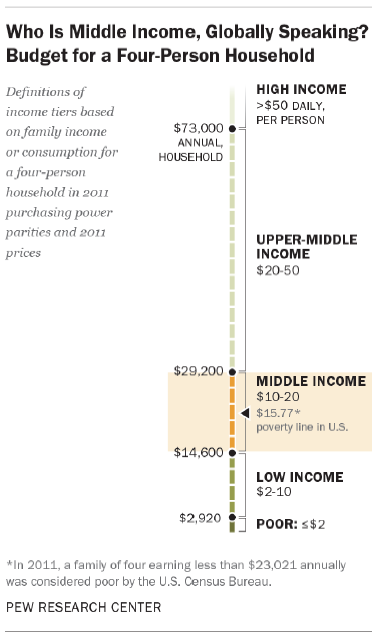 Here's the bottom line from the Pew report:
"Perhaps more importantly from an international perspective, the gap in living standards between the world's economically advanced countries and emerging and developing nations barely narrowed in the first decade of this century. In 2001, 91% of the world's high-income people lived in North America and Europe; in 2011, the share was 87%."
Before it's here, it's on the Bloomberg Terminal.
LEARN MORE