Risky World Makes Treasury 10-Year Auction a Buyers' Paradise
Greek debt impasse, China stock plunge fuel demand for refuge
Looming risks in Greece and China continued to spur demand for safe assets, as investors increased their purchases at the Treasury's $21 billion auction of 10-year notes.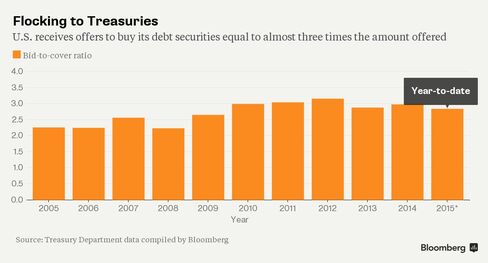 ``It's safer to come into the long-end of the Treasury market,'' said Jim Vogel, head of interest-rate strategy at FTN Financial in Memphis, Tennessee. Problems in Greece and China ``chip away at the confidence that there's not much standing in the way of an economic rebound.''
The sale also benefits from the relative value of Treasuries that yield more than comparable maturity government bonds of 15 other developed nations, according to data comiled by Bloomberg.
Investors remain concerned that Greece may falter as it approaches a July 12 deadline for packaging economic policy changes that will persuade European creditors that it should remain in the euro. Policy makers in China remain unable to halt a plunge in the country's stock market while a global drop in the price of commodities has reduced inflation expectations and added to risk-averse conditions.
The securities yielded 2.225 percent, compared with an average forecast of 2.243 percent in a survey of six of the Federal Reserve's 22 primary dealers.
The bid-to-cover ratio, which gauges demand by comparing the amount bid with the amount offered, was 2.72, down from 2.74 in June. It was higher than the average of 2.67 at the 10 previous offerings.
The ratio is 2.84 for the entire $1.102 trillion in notes and bonds sold this year, compared with 2.98 in 2014.
The Treasury is scheduled to auction $13 billion of 30-year bonds Thursday. It sold $24 billion of three-year notes Tuesday at a yield of 0.932 percent.
Before it's here, it's on the Bloomberg Terminal.
LEARN MORE