Repurchases Seen Running Into U.S. Regulatory Roadblocks Ahead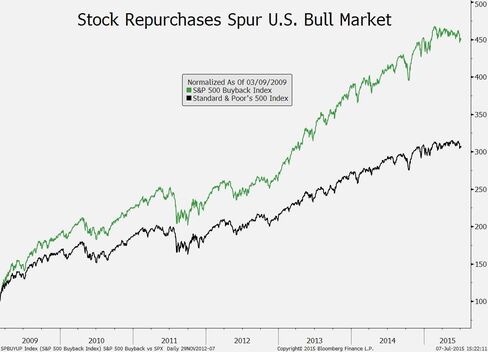 Repurchases may begin losing influence on U.S. stocks as lawmakers shift toward discouraging companies from pursuing them, according to Anton Tonev and Davey Jose, analysts at HSBC Holdings Plc.
"We see a risk that regulation which enabled easier share buybacks starting in the 1980s could be reversed," they wrote in a July 2 report. "These changes might mark the beginning of a new corporate governance era in the U.S., resembling more the environment after the Great Depression."
The attached chart illustrates how buybacks have affected share prices since the current bull market began in March 2009. A gauge comprised of 100 companies in the Standard & Poor's 500 Index that repurchased the most stock rose 351 percent through last week. The S&P 500 gained 206 percent during the period.
Companies increasingly turned to buybacks after the Securities and Exchange Commission shielded them from lawsuits through Rule 10b-18, adopted in 1982, Tonev and Jose wrote. The London-based analysts added that April's announcements by U.S. companies totaled a record $141 billion.
"The U.S. buyback avalanche may be reaching an extreme point," they wrote. A shift toward greater regulation may end up "tempering some of the gains in U.S. stock prices over the last few years, or in some cases, even reversing those gains."
Adoption of the Dodd-Frank Act five years ago pointed toward increased oversight, which also occurred in the 1930s after the Depression, the report said. As for buybacks, Tonev and Jose cited a request by Senator Tammy Baldwin that the SEC assess the 1982 rule. Baldwin, a Wisconsin Democrat, asked for the review in an April letter to SEC Chairwoman Mary Jo White.
Before it's here, it's on the Bloomberg Terminal.
LEARN MORE