Putin Tells Modi He May Take Up Yoga If He's Fit Enough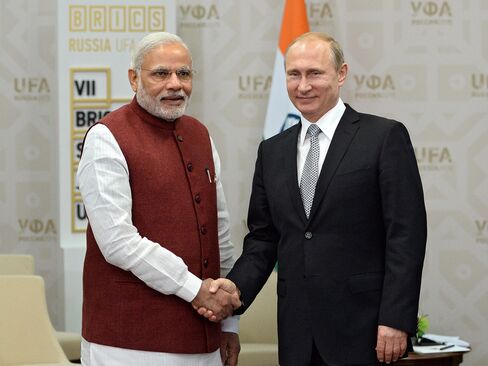 Russian President Vladimir Putin told Indian Prime Minister Narendra Modi that he may start practicing yoga if his physical health allows.
"Yoga is one of the few things I haven't done yet, though it's hard to resist the attraction," Putin, 62, who is a judo black belt, told Modi during talks at the BRICS summit in the Russian city of Ufa on Wednesday. "I will see what I can do, given my level of sports fitness. When you look at real practitioners of yoga, they just seem to achieve an impossible level of perfection."
Putin, who has cultivated an action-man image with the Russian public since he was first elected president in 2000, enjoys mountain skiing and playing ice hockey as well as judo and swimming, according to his official website. He suffered a back injury during a judo bout in 2012, which resulted in some overseas trips being postponed.
Before it's here, it's on the Bloomberg Terminal.
LEARN MORE