Pasta Anyone? Investors Build Appetite for Italian Food Firms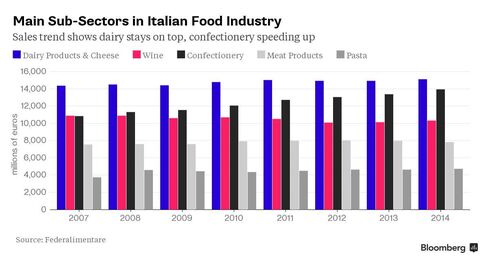 Investors are developing an appetite for Italian food. Food companies, that is.
Mostly family owned, makers of linguini, mozzarella, tomato puree and other Italian fare traditionally have shunned the stock market, turning instead to limited investments from private-equity firms for capital to expand. With new funds being created for food-related investing, that's changing.
"Companies are beginning to exploit the potential of capital markets," said Borsa Italiana Chief Executive Officer Raffaele Jerusalmi at an event in Milan. Recent initial public offerings of Massimo Zanetti Beverage Group SpA, the world's fifth-largest coffee maker, and Masi Agricola SpA, which makes wines including Amarone, show "a clear and strong turnaround in this trend," he said.
While some 54,000 Italian food and beverage businesses generate 134 billion euros ($148 billion) of annual sales -- it's the country's second-largest manufacturing industry -- only 4 percent of the firms listed on the Italian stock exchange are from that sector. Well-known manufacturers such as Ferrero, producer of the Nutella hazelnut chocolate spread, and pasta maker Barilla aren't publicly traded, while in France and Switzerland food giants such as yogurt maker Danone and Nestle SA are listed.
More than 400 Italian food and beverage companies are estimated to be potential candidates for a stock market listing, according to a study by Milan investor relations firm CDR Communication.
'Huge Interest'
These companies have had earnings before interest, taxes, depreciation and amortization in the last 12 months, sales of more than 20 million euros each, and net debt-to-Ebitda ratio below six, according to CDR.
"There is a huge interest for the Italian food business from parties in the country and abroad, including the U.K., Swiss, French and Benelux investors," said Federico Cellina, head of marketing and fundraising at Italian investment firm DeA Capital SpA. It set up the IDeA Taste of Italy food fund and is halfway to reaching a goal of raising 200 million euros from investors.
The fund made its first investment in May, when it bought Gruppo La Piadineria, a restaurant chain specialized in wraps made with thin Italian piadina flatbread, for 30 million euros. It's in talks for a second deal in the wine industry as it seeks to make between eight and 12 investments in various segments of the Italian food industry.
Made in Italy
Eataly, the food and wine retail chain with stores in Italy and the U.S., and Mutti SpA, a Parma based-maker of tomato pulp and puree, are among companies that have said they may do an IPO to help finance growth.
"The idea that small is beautiful is somehow rooted in Italian culture and mentality," said CEO Francesco Mutti. "The country's food sector has to understand that being 'Made in Italy' is not enough to be competitive. A consolidation process is needed to finance R&D and sustain profitability."
Some in the industry remain skeptical about going public. Andrea Rigoni, CEO of Rigoni di Asiago, a maker of organic jam, honey and chocolate spreads, says an IPO is "a means and not an end." The priorities for companies "should be on structural growth, quality and supply chain relations."
Still, future funding options for Rigoni may include an investment from a private equity fund or a new financial partner alongside Fondo Italiano di Investimento, which currently owns more than 35 percent. "There are many candidates, another indication of the appeal of top-product food players."
Going Public
Nuova Castelli, a maker of specialty Italian cheese, also opted for a private investor -- Charterhouse Capital Partners -- before considering an IPO.
CEO Luigi Fici said the private equity firm "was the right choice as they don't have speculative interests and are committed and aligned with our goals." That investment helped the company fund an acquisition in Poland, he said.
"The sector is ripe with opportunity as smaller companies seek to build critical mass through aggregations and funding from financial investors," said Fabio Cappelletti, a lawyer at Milan law firm hi.lex, which specializes in the so-called three Fs of Made in Italy -- food, fashion and furniture.
"Even smaller companies have major international growth potential if they have exportable products, strong management, and know how."
Read this next:
Before it's here, it's on the Bloomberg Terminal.
LEARN MORE