Make Money as a Webcam Star—Without Taking Your Clothes Off
Inside the world of YouNow, a live-streaming app that has shunned ads to create its own strange, tip-based economy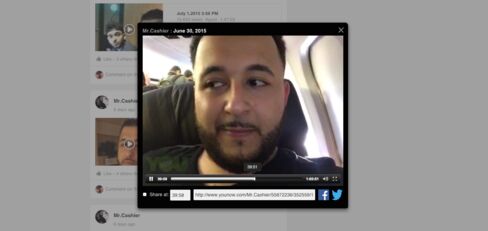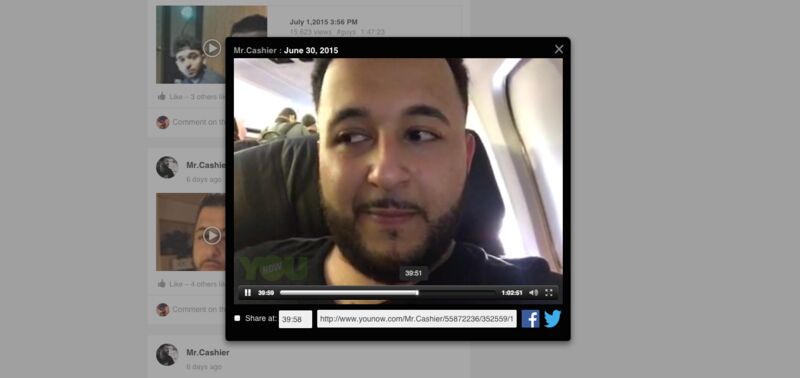 Tayser Abuhamdeh recently lost his job at a bodega in Williamsburg, Brooklyn. His boss couldn't get over the late-night clerk's habit of using his phone to provide running video commentary on his mundane existence to anyone who cared to tune in. The audience watching Mr. Cashier on the live-streaming service YouNow grew over a year of bodega broadcasts, and so did the tension between Abuhamdeh and his boss. When his employer finally called to fire him, Abuhamdeh was in Chicago taking selfies with fans.
Mr. Cashier isn't trying to find a new job. With a following of about 135,000 users on YouNow, Abuhamdeh is spending his summer at events for the Internet-famous and keeping up a steady regimen of live-streaming broadcasts, some of which can last for hours. The videos pay the bills, bringing in what Abuhamdeh says is triple what he made at the bodega. "Every day I think I'm going to wake up tomorrow and it's going to be gone, and it was a weird dream," he says.
Social media stardom isn't necessarily a surprise anymore. YouTube personalities make television shows and movies; Hewlett-Packard has hired Vine stars to make its TV commercials. A whole new economy is being built on certain young people's ability to draw huge audiences to their social media accounts, and marketers' desire to follow them wherever they may go.
The money started flowing through YouNow just last year. The site is different from its streaming rivals in one important way: There's no advertising. Instead, YouNow relies on its users to pay one another. Last month, according to YouNow, users spent between $1.5 million and $2 million giving each other digital tips, with the company keeping about 30 percent. Its iPhone app is the 10th-ranked social networking app in the U.S. by gross revenue. YouNow won't reveal how many people tune in but says it hosts 100 million user sessions per month, with the average user spending 50 minutes on the service each day.
This makes YouNow both a weird social experiment and a potentially fascinating business model for people trying to make a living through Internet fame. It could serve as an example for buzzy live-streaming services such as Periscope and Meerkat, which haven't publicly discussed their plans for making money. Can the digital tip jar, an online fixture since the primitive days of the first blogs, become a viable alternative to advertising? Or will YouNow become further proof that there's no such thing?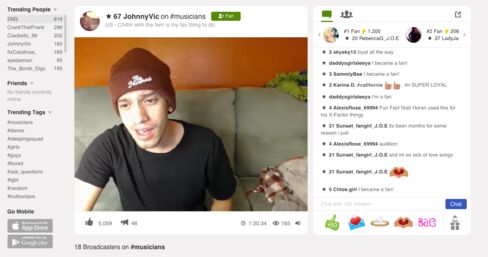 Live streaming is ostensibly a kind of video, but what happens on YouNow is quite different from a live broadcast of a sporting event or concert. Sessions generally include a star facing a camera and addressing the audience, which types back a torrent of comments.
One YouNow stream last week consisted of a boy with a Southern accent angrily telling commenters that he didn't "sound gay," then arguing with his mother when she walked into his room, perhaps after having gotten drunk off-camera. On another channel at roughly the same time, two girls danced and lip-synced.
Abuhamdeh, meanwhile, was boarding a plane. So at that moment, Mr. Cashier's stream consisted of him rolling his eyes at a guy yammering on his cell phone in the adjacent seat. As he did this, the star regularly thanked those who gave him money, which happened several times each minute. His vague editorial vision for the Mr. Cashier account seems to sum up the overall YouNow ethos: "I really had no goal, to be honest," Abuhamdeh says. "I really just wanted people to see what I was doing every day, just taking them with me."
Because of the format and the user base—about 70 percent of YouNowers are under 25—the site has a distinct tendency toward the self-referential. People come to YouNow largely to talk about what it's like to be hanging out on YouNow. It's an aesthetic that the Huffington Post, which YouNow describes as its first big media partner, attempts to replicate in its own streams. The host of one broadcast, an associate social media editor at HuffPo, faced the camera while sitting next to a second computer, on which she was Skyping with Jelly and Day, a pair that amassed a following by documenting the joys of their coupledom on YouNow, YouTube, and Twitter. Within minutes all three women were actually just looking down at their own phones, presumably alerting followers on other social platforms where they could be found at that moment.
This is exactly the kind of immersive media experience that completely baffles anyone who doesn't, like, love it. But delving into the mysteries of millennial communication can prove irresistible to more traditional companies. "We targeted the first show at 30 minutes, and I think it went on for 30 minutes longer than planned," says Danny Shea, editorial director of the Huffington Post. "It was hard for our hosts to stop the conversation, because the level of engagement was so high. That was exciting for us."
This isn't to say that nothing productive happens on YouNow. Marite Desaine, a 20-year-old art student from Latvia, regularly broadcasts herself drawing silently while listening to her headphones, with the music also streamed onto YouNow. A split screen shows Desaine's face and the drawing she's working on. Followers ask her for advice on technique and which song she's listening to. She regularly receives tips via YouNow and sells her finished drawings on Etsy.
Desaine's broadcasts have a serene atmosphere, but her role doesn't sound very relaxing. "I draw with the right hand and type with the left hand, while switching songs every three minutes," she says. Not that she's complaining: "There's this live presence, watching you, asking you questions," says Desaine. "It's really gratifying."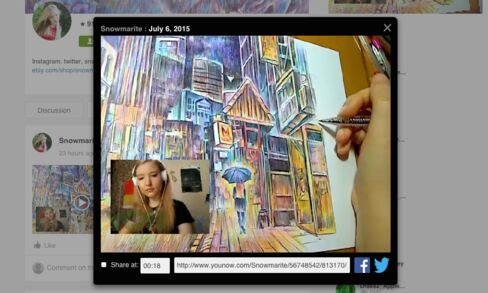 For YouNow Chief Executive Officer Adi Sideman, a rejection of an advertising-oriented business model has always been part of the company's core philosophy. "We take a creator-centric approach, and advertising does not help the creators," he says. "Patronage supports a direct relationship between the creator and the audience."
Live video sites aren't the only place on the Internet allowing users to hand out tips. Websites trafficking in the written word have flirted with gratuity for authors of individual articles, and YouTube lets video creators add a tip jar to their channels. But live broadcasts are a particularly logical place to allow these kinds of payments, because they can provoke an immediate response.
Users watch YouNow for free and have the option of buying a digital currency that's used to tip performers. The gifts reach broadcasters as real money only after YouNow takes its cut. For now, the only YouNow stars who can collect these tips are those selected by the company's staff. The startup holds dear its wholesome reputation, and strict control helps prevent performers who have a financial incentive to please the audience, from taking off their clothes. It's a fair concern, considering that one other market where the performing-for-digital-tips model is thriving is pornography.
In adult video streams, tips are often used as a way for a viewer to get someone to do something specific, or at least to acknowledge the person doing the tipping. Once money gets involved, the entire performance can become about the money. Things get weird. In an article posted on Medium earlier this year, the journalist Emily Witt described watching a stream on the sex-cam website Charturbate: "She had suspended herself by the arms from the ceiling to a hook made of ice, blindfolded herself, and wired up some kind of sex machine that vibrated every time someone tipped her."
People on YouNow do offer to do (tamer) things in exchange for followers or tips, but the culture of the site seems to shun even a PG-13 version of this type of exhibitionism-for-hire. A popular Twitter feed set up to anonymously call out those sinning against the site's code of conduct regularly accused certain YouNowers of being "thirsty," slang for being overeager for tips. (The account suddenly disappeared from Twitter earlier this week.) YouNow broadcasters also bring up the term, mostly to distance themselves from any practice that might be interpreted as such.
Abuhamdeh says he can make more than $1,000 for a 45-minute broadcast. But while he is now relying on YouNow for his income, he has also internalized its cultural taboo of doing anything to explicitly encourage people to pay him for his labors. "That's one thing I never want to do in my life—ask for anything," he says. "If it ever came down to it, and I needed money, I'd just go and get a job."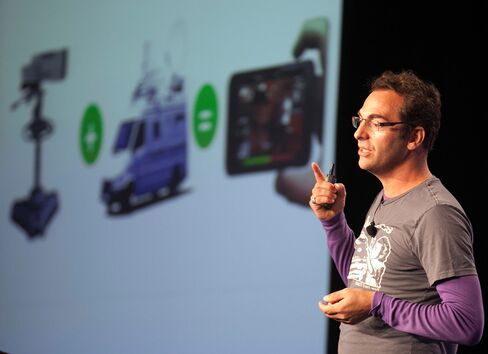 Some people who follow the economics of social media see YouNow's model mostly as an interesting sideshow. These skeptics believe it will be too hard to maintain an economy based on voluntary tips, especially if creators have to take pains to never appear to want or need them. Other platforms have developed similar models: On Twitch, the popular video game streaming site, participants in a partner program can offer subscriptions to viewers willing to pay for private chats and better video quality.
Seth Shafer, an analyst at SNL Kagan, thinks all roads will eventually lead back to advertising, because the expectation of free online content is too deeply entrenched. An ad-free YouNow, he says, will have trouble growing and keeping people on its platform "instead of making YouTube videos or streaming at other ad-supported sites with a clearer path to getting paid."
Andrew Graham, a senior talent manager at Big Frame, a YouTube network, says he regularly scouts YouNow for up-and-coming talent. He visits YouNow in the same way that a record company executive might hang out in the best local bars. The revenue split among YouTube and its creators has been a regular source of contention. But, as Graham sees it, people looking for truly huge audiences will eventually focus on YouTube.
"You spend your time, ultimately, where you make the most amount of revenue," Graham says. "Until we have a platform that is making millionaires—not paying out millions, but paying out hundreds of millions—it's not going to make a significant difference."
YouNow's Sideman, naturally, takes issue with this narrative. So do YouNow creators. Of course, the performers all have YouTube channels and Twitter handles, too, but those interviewed for this story describe YouNow as their primary platform. Jared Tousley, a 17-year-old from North Carolina who goes by Flippinginja on YouNow, says the live aspect has no parallel on other platforms. "It's very personal. It's live. If someone says hi to me, I can say hi right away," he says.
Tousley became a quick celebrity after his first YouNow broadcast a year ago, in which he dragged his sister on-camera and demanded that viewers give her compliments after a rough day. It worked, and he soon had a large following online. This didn't escape the attention of his father, Darrell, who signed up for his own account and now has more than 32,000 fans of his own. Darrell recently quit his job teaching sculpture at the University of North Carolina School of the Arts, and both Tousleys are members of YouNow's partner program. Darrell believes that his income from the platform will soon replace his $73,000 teaching salary.
"I think that being a YouNower can be a full-time job," says Jared. "Like being a YouTuber."
(Corrects the spelling of Tayser Abuhamdeh's name throughout.)
Before it's here, it's on the Bloomberg Terminal.
LEARN MORE