Kurd Gains Unite Turkish Parties Against Them in Coalition Talks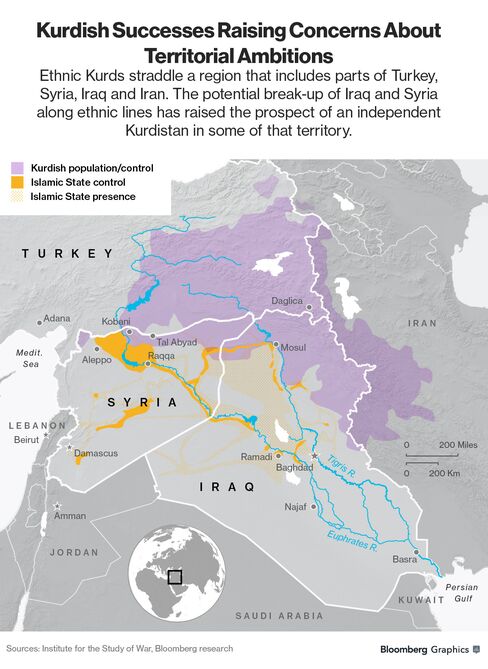 Hailed as giant-killers in last month's election, Turkey's Kurds are being sidelined in coalition talks as the country's right-wing parties unite in branding them terrorists.
Gains by Syrian Kurdish fighters against Islamic State militants along the border with Turkey last month have brought the ruling AK Party and ultra-nationalist MHP closer as the country's political groups seek to form a coalition government to avoid another election. While the two disagree on issues such as the extent of presidential powers, they see revitalized ambitions for Kurdish autonomy in Syria and Turkey as a threat to national security.
A coalition between the two parties would deal a blow to the Kurds' drive to win more rights in Turkey and risks reigniting conflict with the main Kurdish rebel group that's linked to fighters in Syria. MHP says it won't enter government unless peace talks with rebels end, and it's backed the administration's call to create a military buffer zone in Kurdish areas of Syria.
"MHP is against any concessions to the Kurds that could threaten the country's unity," Oner Bucukcu, an analyst with the Ankara-based research center SDE, said. "That provides an alignment of interest for a coalition between MHP and AK Party."
Turkey's main Kurdish party, HDP, scored a historic victory in the June 7 election to enter parliament for the first time while the AK Party lost its overall majority. Formal coalition talks are expected to begin once acting Prime Minister Ahmet Davutoglu is officially re-appointed in his role this Thursday, according to state-run Anadolu Agency. The parties have 45 days to form a government before fresh elections are called.
Turkish Tanks
The post-election period has seen fighting escalate along the Syrian border as Kurdish fighters seized a key border crossing from Islamic State militants in June. Turkey deployed dozens of tanks and long-range guns to the region last week. The country "can't remain indifferent" to events in Syria that "could internally affect Turkey and destroy the balance of the region," Davutoglu said June 28.
Rhetoric aimed at Turkey's Kurds has hardened since the vote. MHP Deputy Chairman Semih Yalcin called HDP members of parliament "fake champions of democracy that are powered by the PKK's arms," referring to the main Kurdish rebel group. Deputy Prime Minister Yalcin Akdogan said HDP had "declared war against the peace process and the government managing it," in a tweet July 3.
Coalition Talks
"Both sides are playing to their base, but ultimately MHP may balk at doing business with AK Party," Nihat Ali Ozcan, an analyst at the Economic Policy Research Foundation in Ankara, said by phone. The main stumbling block is likely to be MHP's refusal to accept the influence of President Recep Tayyip Erdogan on any coalition, he said.
MHP has said Erdogan's ambitions for an executive-style presidency must be curtailed and that he must move out of a newly built palace that cost about $600 million.
The party also campaigned on re-opening a corruption probe that alleged wrongdoing by Erdogan's inner circle.
Both the MHP and AK Party have ruled out working with the Kurds, while talks between the ruling party and main opposition group CHP have also stalled.
The lira has declined 1.1 percent against the dollar since the election.
Damaging the Peace
"We still think an early election is the single most likely outcome, while a non-AK Party coalition seems to be off the table," Akin Tuzun, a bank analyst at VTB Capital in Moscow, said in e-mailed comments on Tuesday.
The market is focused on an coalition between the ruling party and either the MHP or CHP, with the former more likely, he said.
Anti-Kurd rhetoric risks damaging an already strained peace process to end the Kurd's 30 year struggle for greater rights. Selahattin Demirtas, HDP's co-chairman, said that a coalition based on "cheap calculations would be met with fierce opposition by HDP." AK Party and MHP appear to want to "form a government of war," he said.
Before it's here, it's on the Bloomberg Terminal.
LEARN MORE