Greece Rolls Over Bills With Increasingly Predictable Results
As Greece girds for a showdown with its creditors over funding, at least the nation is still able to roll over its short-term debt.
Every auction of bills since February, including Wednesday's, has drawn bids for 1.3 times the amount of securities offered. And the six-month yield has been steady at 2.97 percent since March's sale.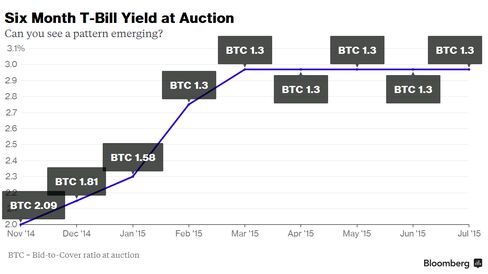 Such is the consistency that Greece's Public Debt Management Agency, which handles the sales, published the results on Wednesday, retracted them, and then disseminated identical data about 10 minutes later.
The stability may reflect a common interest among banks and state organizations to keep the government afloat.
"Banks would only hurt themselves if they don't buy the bills and trigger a sovereign default in this way," Christoph Rieger, head of fixed-income strategy at Commerzbank AG in Frankfurt, said before the auction.
Greece is facing a Sunday deadline from European leaders to accept a rescue or leave the euro, while its banks are being supported with emergency funding from the European Central Bank. The ECB will end its liquidity support for Greece if "there is no political accord in sight," board member Christian Noyer said Wednesday in an interview on France's Europe 1 radio.
Greece sold the 1.625 billion euros ($1.8 billion) of bills on Wednesday just as 2 billion euros of securities come due on Friday.
"If I put myself in the position of the Greek banks, I simply have to buy the bills at this auction," said Peter Chatwell, a fixed-income strategist at Mizuho International Plc. "If I do not I increase the risk of default of my sovereign, which would very probably lead to a Grexit and the collapse of the banking system. Plus, it's simply a rollover."
Before it's here, it's on the Bloomberg Terminal.
LEARN MORE