Federer Faces Murray, Djokovic Plays Gasquet in Wimbledon Semis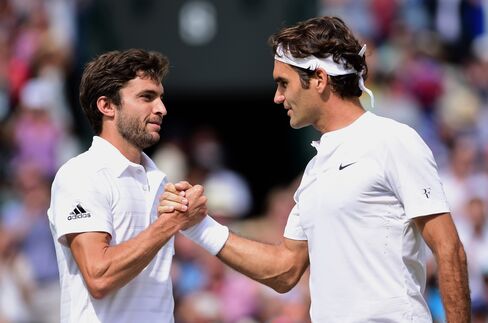 Roger Federer plays Andy Murray in the Wimbledon semifinals while defending champion Novak Djokovic faces Richard Gasquet.
Seven-time champion Federer beat France's Gilles Simon, 6-3, 7-5, 6-2 on Court No. 1 at the All England club in a match that was delayed twice -- once in the first set and then at the end of the second -- because of rain showers.
"I used the breaks to my advantage," Federer said in a televised interview after moving to the last four at Wimbledon for the 10th time a month shy of his 34th birthday. "It's never easy for either player. It was quite windy as well."
Under the roof of Centre Court, which had been shut during the second rain delay, 2013 champion Murray of Britain dispatched big-serving Canadian Vasek Pospisil, 6-4, 7-5, 6-4, as Prince William and Kate, the Duchess of Cambridge, and six-time Wimbledon singles winner Billie Jean King watched from the royal box.
The other men's semifinals will be played between top seed Djokovic and France's Gasquet. Djokovic eased past U.S. Open winner Marin Cilic of Croatia, 6-4, 6-4, 6-4, while Gasquet ousted French Open winner Stan Wawrinka in five sets, 6-4, 4-6, 3-6, 6-4, 11-9. Gasquet had been serving for the match at 5-3 when Wawrinka fought back.
"It was tough after leading 5-3, I was fighting a lot," Gasquet said afterwards. "It was an incredible victory. It was a great battle," he added.
"You need to earn it, you need to work your way through," Djokovic said about reaching his 27th major semifinals. He's only lost once to Gasquet in twelve matches.
Federer beat Murray 12 of the 23 times they've played, with each man winning once on the London lawns. Federer reduced Murray to tears in the 2012 finals, while the third-seeded Scot took revenge a month later in the gold medal match at the London Olympics.
"I think we both like to look back at that summer," said Federer, who won the last of a men's record 17 major titles that year at Wimbledon. "It's going to be a tough one for me, but I'm looking forward to it."
Under the Roof
Just like Federer, Murray said the rain delays weren't easy to deal with.
"It was difficult, we stopped a couple times and then coming out under the roof is hard, the conditions are different," he said after reaching his sixth Wimbledon semifinals.
Murray said he's looking forward to playing Federer, with whom he'd walked to the practice court earlier in the day.
"We get on well, hopefully it will be a good match."
Playing in his eighth straight Wimbledon quarterfinals, Murray's all-court coverage and strong returning proved too much for the unseeded Pospisil. Although the 56th-ranked Canadian had produced 79 aces in the way to his first major quarterfinals spot -- more than twice as many as Murray -- he only managed nine against the Scot, one of the best returners in the men's game.
"I tried to change my return position a little bit, to make him think a little bit," said Murray. "That worked."
Pospisil, who got broken three times, has now lost to both Murray brothers at Wimbledon this year. On Monday, Andy's older brother Jamie and John Peers ended Pospisil's Wimbledon doubles title defense with American Jack Sock in five sets.
Tube Strike
Federer, who was supported by movie star Bradley Cooper from his box, dominated Simon from the start as he took the first set with an ace in 30 minutes.
Soon after Federer got broken for 5-5 in the second set, ending a streak of 116 consecutive holds dating back to the first round of Halle, Germany last month, rain started to pour and the players were off for a second time.
"The game I got broken, he was too good, I just had to accept that," said Federer, who immediately broke back.
Although the Wimbledon crowd were advised to leave at the start of the third set if they wanted they get home before a transport strike started at 6 p.m. local time, hardly anyone on Court No. 1 left their seats. Rod Laver, a four-time Wimbledon winner from Australia, attended.
After Federer also took the second set with an ace, he double faulted on his first match point at the end of the third. He served and volleyed the second one, finishing the point with a blocked backhand volley.
Before it's here, it's on the Bloomberg Terminal.
LEARN MORE