Fed Increase Little More Than Coin Flip for Derivative Traders
Unrest in China and Greece looms large with money-market derivative traders who now see little more than a coin flip's chance that the Federal Reserve will lift interest rates this year.
Fed funds futures give a 54 percent probability that the central bank will lift rates in December, down from 59 percent before the Fed on Wednesday released the minutes of its June policy gathering. At the start of the month, the likelihood of the central bank lifting its near-zero benchmark rate this year was nearly 70 percent. The chance of a September hike is now 21 percent.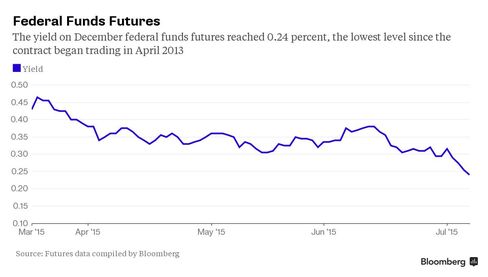 Fed officials last month saw the economy moving toward conditions that would support a rate increase while expressing concern about weak consumer spending and risks from China and Greece, a record of their gathering showed. Yields on money-market derivatives and U.S. government debt of all maturities have fallen this week amid risk that Greece may exit the euro bloc and as Chinese equities plunged.
``The data that has come out since the FOMC meeting in our view has strengthened the case for a September liftoff,'' said Brian Smedley, director of U.S. rates research at Bank of America Merrill Lynch in New York and a former trader at the New York Fed. ``The fact that market pricing has moved into the opposite direction has been influenced to a great degree by Greece and China. It's likely that the market attaches a higher significance to international developments in the Fed's policy framework than policy makers do.''
Fed View
Members of the Federal Open Market Committee ``saw economic conditions as continuing to approach those consistent with warranting a start'' to increases at some point, according to minutes of the June 16-17 meeting released Wednesday in Washington. All members but one ``indicated that they would need to see more evidence that economic growth was sufficiently strong.''
The implied yield on December 2015 Fed funds futures contracts fell to 0.24 percent from 0.26 percent Tuesday and 0.61 percent at the start of the year. The yield on the December 2016 contract declined to 0.89 percent from 0.93 percent Tuesday.
The Shanghai Composite Index sank 5.9 percent on Wednesday, extending declines from its June 12 peak to 32 percent. Economists forecast 6.9 percent growth in China this year, the slowest in a quarter century.
Financial turbulence in China, the world's No. 2 economy, has pushed down prices of commodities, including oil, which has given up its gains for this year. This week, a gauge of six industrial metals from aluminum to zinc fell to the lowest since July 2009.
The Fed has held its benchmark interest rate near zero since December 2008. While the median forecast for the rate this year was unchanged in June, seven of 17 members of the FOMC now project either one rate increase or none in 2015, up from just three in March.
``It seems to us that it would take a significant spillover to the U.S. from Greece and/or China in terms of selloff in risky assets to dissuade the Fed from starting to tighten policy in September,'' Smedley said.
Before it's here, it's on the Bloomberg Terminal.
LEARN MORE