China Ousts Russia as Riskiest BRICS Market for Options Traders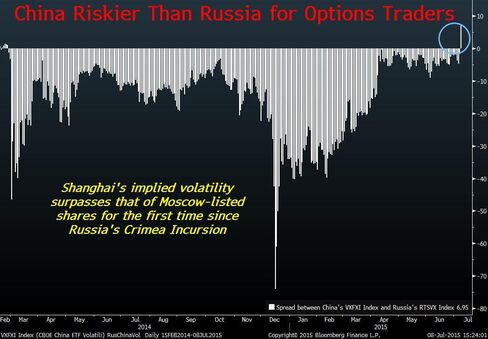 China's market meltdown is making even Russia look good.
Shanghai stocks overtook Moscow-listed equities as the riskiest for investors in the so-called BRICS universe on Wednesday for the first time since the build-up to Russia's military intervention in Crimea in February 2014. Expectations for price swings in China jumped 23 percent today, extending the 2015 increase to 71 percent, compared with a 39 percent drop in Russian volatility this year, according to options data.
"Six months ago, this would have been quite surprising because Russia was on the brink of a financial crisis and China's rally had only just begun," William Jackson, a senior economist at Capital Economics Ltd. in London, said by phone. "But as months have gone on, this outcome has become less surprising. When you get very large rises in a stock market as there was in China, the fall can also be very sharp."
The benchmark Shanghai Composite Index has lost a third of its value in less than four weeks as investors unwound margin trades at an unprecedented pace. While Russia is still hobbled by international sanctions over its role in the Ukraine conflict and its economy is heading for a recession, investors have begun to see signs of some stability, according to Jackson.
The Moscow Exchange's Russian volatility gauge fell 3 percent to 36.86 on Wednesday from 60.04 at the end of last year, the biggest retreat in nine years, according to data compiled by Bloomberg. In the same period, the Chicago Board Options Exchange's China Exchange-Traded Fund Volatility Index has climbed to 44.38 from 26.01.
Before it's here, it's on the Bloomberg Terminal.
LEARN MORE