Basketball, Unbundled: How Much Would You Pay to Watch One NBA Game?
The first big-league sport is going to start selling live broadcasts of single games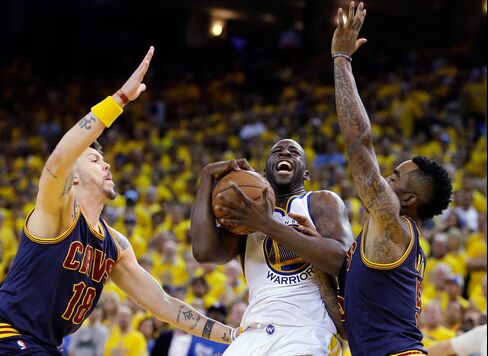 The National Basketball Association once took a one-size-fits-all approach to fans who want to watch out-of-market games: Pay a single price, get access to almost everything. Your favorite team, struggling franchises you wouldn't dream of watching, boring match-ups. As long as it were not being broadcast by your local cable-TV provider, it would be available to subscribers of NBA League Pass for a flat fee. In 2009, after 15 years of this one-price policy, the league began offering broadband customers the option of choosing a handful of teams to watch for a lower price.
Now the NBA is going all in on à la carte. Starting next season, basketball fans can purchase out-of-market access on a per-team and even a per-game basis. The announcement, which came on the day that the Golden State Warriors won the league championship, came as something of a tease. The NBA showed a glimpse of à la carte paradise without revealing any information about prices. Last year, the full-size pass cost $200, or $190 for customers who signed up early. The five-team option was $140, or $130 for early birds. The league says next season's prices will be announced later this month and declined to discuss its process for setting them.
In economic terms, the league is on a trajectory from a pure- to a mixed-bundling strategy. This puts it in the same boat as Apple's iTunes, which sells music by the song and by the album, as well as corner cigarette merchants who sell "packs and loosies." Pure bundling tends to coincide with monopoly power. (See: cable companies.) Consumers prefer choices and—where competition exists—we usually get them. In this light, the decision to completely break the bundle is surprising and unorthodox. The league continues to enjoy a monopoly for its out-of-market games. Competition comes only from other sports and entertainment options, which most consumers don't consider ready substitutes. Tellingly, the various pay-TV distributors who offer League Pass have not yet signed on to the new à la carte system. It's only for customers using the league's digital media player over broadband.
The sole outside pressure pushing the NBA towards variable pricing comes from a different kind of court. Sports fans sued the National Hockey League and Major League Baseball in 2012 over regional blackout policies and out-out-market subscription packages, claiming that anti-competitive systems had been created by illegal cartels. The NBA's five-pack option probably saved it from a similar lawsuit, though the essence of those suits—that fans outside the reach of a team's regional sports network are forced to buy multi-team bundles—applied to it as well. In May, a federal judge agreed to certify the hockey and baseball suits as class actions. By adding à la carte offerings, the NBA preempts a similar complaint.
The NHL and MLB lawsuits produced useful data on the economics of bundling. The plaintiffs in those cases called in Stanford University economist Roger Noll to calculate the harm done by blackout restrictions. Noll based his analysis on a 2011 study (PDF) that imagined a world of à la carte cable. The economist was allowed to look at subscriber numbers and usage habits for hockey and baseball's out-of-market packages, and he used the numbers to build a model that estimates how prices would change if league-controlled subscriptions had to compete against stand-alone offerings.
If, for instance, a Yankees fans in Los Angeles could buy access to just the YES Network, a channel available only to cable-TV subscribers in the New York area, how far would the price of MLB's all-inclusive Extra Innings subscription fall? In his sworn statement from last year, Noll found that MLB's offering would drop from $120 to $47 if there were single-team options available. The price for the NHL out-of-market bundle would likewise fall from $159 to $63. Customers who opted for a single-team channel would in general save roughly 80 percent off the current bundle prices. Noll also estimated that both bundles have profit margins of close to 80 percent.
Sports leagues aren't eager to eat into these high margins. Earlier this month, the NHL reached an agreement with plaintiffs to offer single-team subscriptions for at least a 20 percent discount from the full bundle. An "early bird" subscriber will pay roughly $105 for a single-team package. The MLB case is ongoing. The NFL, which has fewer games to sell and shows all of them on free TV in local markets, has an exclusive deal with DirecTV for its out-of-market package. The satellite provider pays $1.5 billion per year for NFL Sunday Ticket rights and uses the package to entice customers to sign up for broader service.
R. Venkatesh, a professor of marketing at the University of Pittsburgh, expects the NBA to offer single team subscriptions on terms similar to the NHL's. "The mini-bundles and the individual games should be offered at significant premiums," says Venkatesh, who studies pricing strategy. "When you add them up and compare them with the mega-bundle price, it should still seem like you are getting a steal by going with the mega-bundle." It's a basic buy-more-save-more pitch. And since the marginal cost of production for the leagues is essentially zero—it's as easy to stream every game into a home as it is to stream one—the premiums for smaller increments should be high. The strategy for all sports leagues selling out-of-market subscriptions is to get customers moving up the chain, rather than down. That means free trials, early bird specials, and customized bundling.
In a pure market, prices for games and teams would vary by demand. The NBA, however, is not likely to go that route because revenue from the out-of-market packages is shared evenly among all 30 teams. The league office works for the team owners and is not eager to define or expose the pecking order in the market. MLB, which shares revenue in a similar way, briefly offered single-game streams at 99¢ each before scrapping the idea.
So how much for a single NBA game? Without knowing the current habits of League Pass subscribers, it's hard to say. Venkatesh guesses that the average customer only has time or inclination to watch 50 to 100 games, out of the roughly 1,000 on offer to out-of-market subscribers. At $200 for the package, that works out to $2 to $4 per game. Charging three to five times as much for à la carte customers seems to make sense: "The individual price should be about $10," Venkatesh says.
That's roughly the price of nosebleed seat to see the Brooklyn Nets play the Charlotte Hornets at Barclays Center in March.
Before it's here, it's on the Bloomberg Terminal.
LEARN MORE