Bank Earnings Estimates in India Slashed by Most in Two Years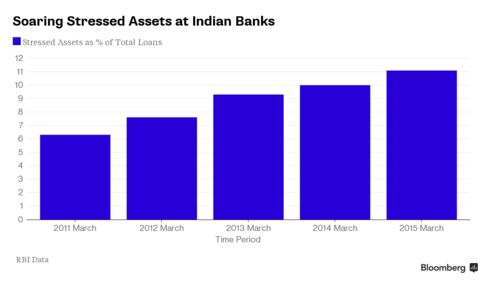 Analysts have slashed their profit estimates for Indian lenders by the most in two years amid renewed concerns over the nation's sluggish credit growth and rising bad loans.
Twelve-month earnings projections for members of the S&P BSE India Bankex Index fell 3 percent last month after the banks published their reports for the year ending March 31, estimates compiled by Bloomberg show.
Policy makers' efforts to boost the economy have yet to ignite credit growth at Indian banks, which is sputtering near the slowest pace since 1994. Reserve Bank of India Governor Raghuram Rajan last month wrote he was "increasingly concerned" about troubled loans at state banks, after lenders including Punjab National Bank reported higher bad loans.
"Earnings estimates have been cut as loan growth and asset quality are disappointing," said Nitin Kumar, a Mumbai-based banking analyst at Prabhudas Lilladher Ltd. "Earlier projections had factored in a pick-up in credit growth and a sharper improvement in asset quality."
Last month's cut in Bankex earnings estimates was the most since a reduction of about 5 percent in mid-July through August 2013, when a sharp plunge in the rupee against the dollar forced the central bank to raise interest rates and tighten funds available in the economy.
The Bankex slumped 24 percent over those six weeks, compared with the benchmark S&P BSE Sensex's 7.1 percent drop. The gauge has slipped 1.4 percent this year, versus the Sensex's 0.7 percent advance.
'Continued Stress'
An index of government banks has tumbled 22 percent in 2015 as their higher levels of soured credit weighed on sentiment. Stressed assets accounted for 11.1 percent of loans in the country's banking system as of March 31, the highest since 2002, data provided by RBI shows. Government banks had a ratio of 13.5 percent, the data show.
"Continued stress on asset quality of public-sector banks and consequent pressure on capital adequacy is a matter of increasing concern," Rajan wrote in the Financial Stability Report, a central bank bank publication released on June 25.
Punjab National Bank, whose shares have slumped 35 percent this year, saw its stressed-asset ratio rise by 1.3 percentage points in the year ended March to 6.6 percent. BNP Paribas Securities India Pvt. cut its estimate for the New Delhi-based company's 2016 per-share profit by 13 percent, a July 3 report showed.
Missing Link
For state banks, "the structural story remains weak," Avneesh Sukhija, a BNP analyst in Mumbai, wrote in the report. His "bear-case analysis" indicated the possibility that shares of Punjab National Bank and government-controlled peer Bank of India may fall more than 25 percent. He cut his estimate for Bank of India's 2016 earnings-per-share by 35 percent.
UBS Group AG analysts led by Vishal Goyal in Mumbai cut the earnings estimates for Indian lenders by as much as 16 percent through March 2017, according to a July 7 note.
Faltering credit growth is also threatening to derail the development agenda of Prime Minister Narendra Modi, who won elections last year promising faster growth and more jobs in the $1.9 trillion economy.
Lending increased 9.75 percent in the 12 months through June 12, RBI data show, close to February's 8.88 percent, which was the lowest level since 1994. The figure hasn't exceeded 11 percent since August 2014.
"It is becoming increasingly difficult to time the macro uptick given the rapidly-changing variables," BNP's Sukhija wrote. "There are several bottom-up issues which pose downside risk to near-term earnings for our banks coverage universe."
Before it's here, it's on the Bloomberg Terminal.
LEARN MORE