As Samsung's Own Referendum Approaches, Cheil Touts Bio Business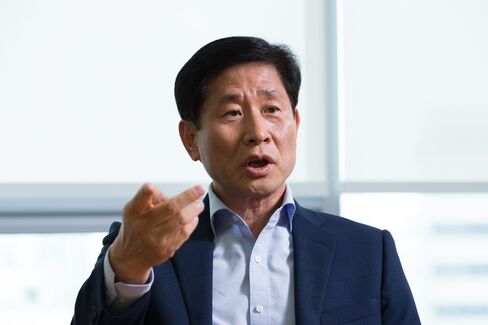 Samsung Group's de facto holding company forecast its drug business will drive earnings growth after turning profitable as soon as 2017, countering the growing criticism it's offering an overvalued stock to buy an affiliate.
Cheil Industries Inc. President Yoon Ju Hwa said in an interview this week that the proposed acquisition of Samsung C&T Corp. will aid its construction unit's push into building biotechnology plants. A deal would also give Cheil access to C&T's global network of sales offices in 46 countries, he said.
"Time is very critical in the biopharmaceutical business," Yoon, 62, said at the company's Seoul headquarters on July 7. "These businesses will become bigger contributors to our profit."
Assessing the value of Cheil's biopharmaceutical operations -- Samsung Group says it's one of the conglomerate's most promising businesses -- may be key in determining the fate of one of the most contested deals Korea Inc. has seen. As the July 17 vote approaches, opponents led by billionaire activist Paul Elliott Singer have argued Cheil is overvalued, meaning its all-stock offer is a bad deal for C&T shareholders.
Cheil and affiliate Samsung Electronics Co. each own 46.3 percent of closely held Samsung BioLogics Co., which makes treatments for arthritis and cancer on behalf of other drug makers, with C&T owning a 4.9 percent stake. BioLogics in turn owns 90 percent of Samsung Bioepis, which is developing biosimilars, or cheaper versions of brand-name biotechnology drugs.
Nasdaq Listing
Bioepis could start making money within two years of selling its first product, which could occur as soon as the end of this year, Yang Chul Bo, chief financial officer of Samsung Bioepis, said at the July 7 interview. Bioepis is considering a possible listing on Nasdaq to compete in a market where there are other major companies and help raise funds should it need to, Yang said.
As it expands in biosimilars, Samsung faces competitors including Pfizer Inc. and Amgen Inc., regulatory hurdles and a still undeveloped market.
Cheil, whose business range from fashion to amusement parks, has been pushing the case that buying C&T would give the company majority control of BioLogics, resulting in synergies.
Singer's Elliott Associates LP has a counter argument that's backed by proxy advisory firms Institutional Shareholder Services Inc. and Glass Lewis & Co.: Cheil is overestimating the value of an unprofitable business so C&T shareholders should reject the offer. Yoon declined to comment on Elliott.
Fashion Chain
Given Samsung Group will require a two-thirds majority of votes cast for the deal to pass on July 17, all eyes are shifting to the National Pension Service, C&T's single biggest investor. The state-affiliated pension fund, which has yet to disclose which way it will vote, said on Wednesday its proxy adviser recommended against the deal, though it's not obligated to follow that advice.
Separately, Yoon said Cheil plans to grow its branded clothing chain business under the 8 Seconds brand and expand into China next year.
The merger will also enable Cheil to move into new businesses, such as providing health care products integrated into footwear and making accessories for mobile products, Yoon said.
"One plus one doesn't always add up to two, it could be more than two," Yoon said. "Once all these plans come into play, growth will gather more steam."
Before it's here, it's on the Bloomberg Terminal.
LEARN MORE