SMFG to to Hire Dozen IPO Bankers in Challenge to Nomura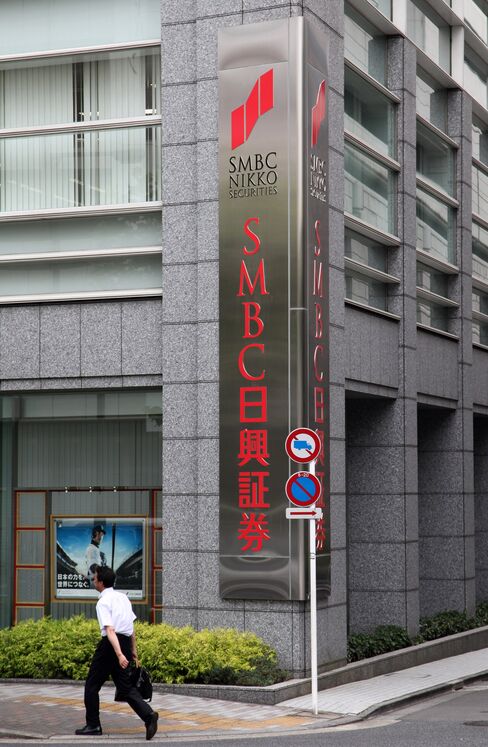 Sumitomo Mitsui Financial Group Inc. plans to hire about a dozen bankers for initial public offerings, a move that could challenge Nomura Holdings Inc.'s stronghold as the biggest manager of debut share sales in Japan.
The bank's SMBC Nikko Securities Inc. unit will increase IPO headcount to at least 100 in the next two to three years from 86 in March by recruiting specialists from other brokerages, said Hideyuki Aoki, head of investment banking.
Japan's biggest banks are boosting fee businesses as stocks rally and shrinking interest rates crimp lending income. Now ranked second among IPO managers, SMBC Nikko is regaining ground lost after its predecessor faced an accounting scandal in 2006 and ended an alliance with Citigroup Inc. in 2009. The turmoil left the firm without a single IPO deal for two years.
"We experienced two years of humiliation," Aoki, 51, an executive officer who leads the firm's IPO underwriting and consulting, said in an interview. "We'll expand the business by hiring professionals, including junior and senior bankers. The IPO industry is a small world and has very well-regarded people."
Tokyo-based SMBC Nikko trails only Nomura on Japan IPOs by transaction value so far in 2015, the highest ranking since Sumitomo Mitsui bought Nikko from Citigroup more than five years ago, according to data compiled by Bloomberg. Nomura was No. 1 in four of the past five years, the data show.
Japan Post
SMBC Nikko, which arranged 13 debut share sales in Japan in the first half, aims to underwrite about 20 deals in 2015, Aoki said. It will focus on industries including artificial intelligence, biotechnology, health care and consumer, he added.
The firm is one of the lead underwriters of initial share sales by state-owned Japan Post Holdings Co. and its banking and insurance units scheduled for later this year. The government is expecting to raise as much as 2 trillion yen ($16 billion) in what would be the biggest deal of the year in Japan.
Shares of Sumitomo Mitsui tumbled 4.2 percent Wednesday, the most in 14 months, as Japanese stocks plunged on concern that a Chinese market rout is spreading. The benchmark Topix index, which reached the highest since 2007 in June, slid 3.3 percent.
SMBC Nikko formed the IPO underwriting and consulting department in March 2013 by spinning off the business from investment banking. The department started with about 70 employees and increased headcount by about 20 percent by hiring bankers and consultants from major firms including Nomura and Daiwa Securities Group Inc., said Aoki, who took his current post in March.
Highs, Lows
As Nikko Securities Co., the firm was most recently the No. 1 underwriter of Japan IPOs in 1999, according to data compiled by Bloomberg. It managed the 2.1 trillion-yen sale of NTT Docomo Inc. a year earlier.
In 2006, the revelations of accounting fraud led senior executives, including the chief executive officer, to resign. Citigroup, which had ties with Nikko since 1998, then increased its stake before selling the brokerage to Sumitomo Mitsui in 2009 in the wake of the global financial crisis. SMBC Nikko didn't lead any IPOs in the country in 2009 and 2010, Bloomberg-compiled data show.
Some employees made it through the turmoil.
"About 20 of our bankers were here working on IPOs in 1998 when we were No. 1," Aoki said. "They're making the most of their experience."
Before it's here, it's on the Bloomberg Terminal.
LEARN MORE