Shake Shack Shares Are Plunging After Morgan Stanley Said the Stock Was Far too Expensive
Not even chicken sandwiches can save Shake Shack shares today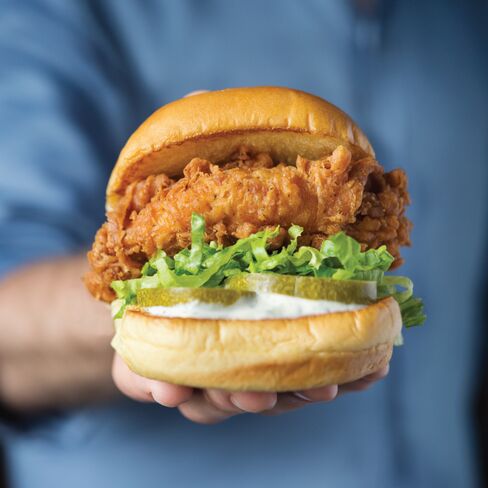 Shake Shack fans in the New York area will get to sink their teeth into the new "ChickenShack" sandwich, available exclusively at the company's Brooklyn locations, starting today.
Despite the fanfare likely to ensue, Morgan Stanley analysts don't seem to care. Shares of Shake Shack have been plunging since the bank downgraded the stock, saying that "any way you stack it ... SHAK is expensive."
The Morgan Stanley team, led by John Glass, is calling for Shake Shack shares to fall by about 30 percent. The analysts published their note before Shake Shack's official new product announcement, but the company has been rumored to be eyeing expansion of its hot dog and hamburger empire for a while. The analysts said that the chicken sandwich is a good idea but the possibility of "new proteins" wasn't enough to change their minds about the overall price of the stock.
The analysts said that Shake Shack is expensive because its shares are illiquid and expensive to borrow in the market. They also said that investors who have bought stock at recent price levels have been influenced by "brand-related euphoria."
That means Shake Shack share prices could be in for a substantial fall, according to Morgan Stanley:
While post IPO euphoria and elevated valuations are not new or unique to SHAK, the difference between what we see as fair value and current market price represents an extreme disconnect. We'd note shares traded at ~$40 in the months subsequent to the IPO but were still below our bull case. Since that time they have appreciated another 45% and are now 50% above our target and >15% above our bull case. The standard six month lock up will expire in late July, and increased liquidity has historically been a catalyst for similar recent IPOs.
So far, the market seems to agree with Morgan Stanley.
Shake Shack plunged 8.7 percent, to $53.86. The burger chain's stock more than doubled in its January trading debut but has been sliding since hitting a high of $92.86 on May 22.
Morgan Stanley now has a $38 price target on the shares.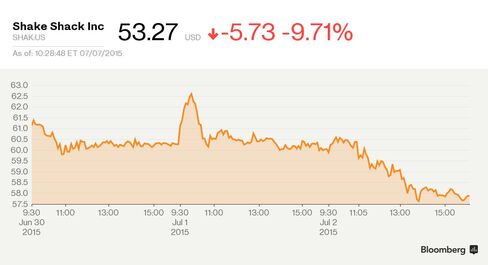 Before it's here, it's on the Bloomberg Terminal.
LEARN MORE