Oil Trader Faces 4 Weeks in Jail After Losing Divorce Appeal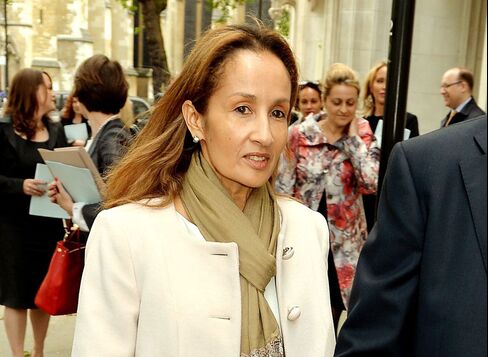 Oil trader Michael Prest faces four weeks in jail unless he pays the 360,200 pounds ($556,100) of alimony and child support he owes his ex-wife by Sept. 28.
Prest, who has been battling divorce proceedings since 2008, was given the ultimatum in a decision by a three-judge panel at London's Court of Appeal on Tuesday. While they refused him permission to appeal to the U.K.'s Supreme Court, his lawyers said they'd make a direct application -- a step that would delay incarceration.
Yasmin Prest won a landmark ruling at the top court in June 2013 giving her the right to force offshore companies owned by her former husband to turn over assets as part of a 17.5 million-pound divorce award. It was the first time a British court pierced the corporate veil in a divorce case, breaking through the traditional legal separation of personal and corporate assets.
"It cannot be acceptable for a husband persistently to fail to discharge his responsibility under a court order to make periodical payments, on his own terms in substantial sums," Judge Andrew McFarlane said in Tuesday's ruling.
Michael Prest was ordered a year ago to pay the sum by a lower a court or face a jail term. In that ruling, Judge Andrew Moylan estimated that the husband was "conservatively" worth 37.5 million pounds.
Petrodel demise
Michael Prest, who has made significant payments to his wife and children over the years, said that the "demise" of Petrodel Resources Ltd. led to the loss of his salary, bonus and means to live on, according to the ruling.
Lawyers for Yasmine Prest argued that despite claims that he was running low on money he could still live extravagantly, paying for luxury villas in Tuscany and a ski chalet in France.
"There is no argument that Mr. Prest has always maintained Mrs. Prest and the children to a very high standard," Michael Prest's lawyers at Collyer Bristow LLP said in a statement. "What is confirmed by today's ruling, however, is that, whilst making payments for their maintenance, he failed to do so in the prescribed form."
By making an application to appeal Tuesday's ruling direct to the Supreme Court, Prest would avoid going to jail if he misses the payment deadline, Judge McFarlane said.
Lawyers representing Yasmine Prest didn't immediately comment on Tuesday's ruling.
Before it's here, it's on the Bloomberg Terminal.
LEARN MORE