Crude Oil Futures End Near 3-Month Low Amid Iran, Greece Risks
Oil traded near the lowest level since April as concern grew over economic stability in Europe and China, while talks over Iran's disputed nuclear program were extended.
Crude pared earlier losses as U.S. stocks rebounded. That followed oil's steepest one-day drop in five months on Monday, with trading volumes at a three-month high. A measure of future price swings surged to the highest since April.
"We've obviously had a heck of a selloff and the bargain hunters are coming in," said John Kilduff, a partner at Again Capital LLC, a New York-based hedge fund that focuses on energy. "There's going to be continued anxiety over Iran and Greece."
West Texas Intermediate for August delivery fell 20 cents, or 0.4 percent, to $52.33 a barrel on the New York Mercantile Exchange, the lowest level since April 13. The contract decreased 7.7 percent Monday.
Brent for August settlement gained 31 cents to $56.85 a barrel on the London-based ICE Futures Europe exchange. It slid $3.78 to $56.54 Monday, the lowest close since April 8. The European benchmark crude traded at a $4.52 premium to WTI.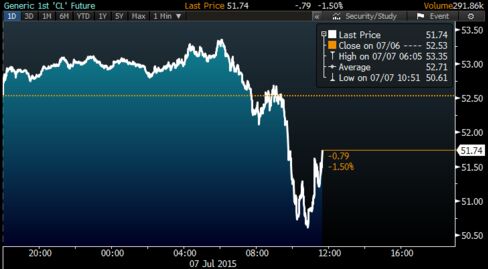 The CBOE Crude Oil Volatility Index, which measures oil price fluctuations using options of the U.S. Oil Fund, jumped 2.8 percent to 41.13, the highest level since April on a closing basis.
Greece steered clear of an immediate collision with creditors by promising to put its economic proposals in writing as German Chancellor Angela Merkel warned that "only a few days" are left to reach a deal.
Iranian Barrels
"Greece, Iran, an unexpected U.S. crude stock build, and China," said Mike Wittner, head of oil market research at Societe Generale SA in New York. "That's your Four Horsemen of the Apocalypse right there, but we don't think it's an Apocalypse Now."
After almost two years, diplomats say they're closer than ever to sealing an accord that would help Iran lift sanctions and boost trade. World powers and Iran extended the terms of an interim accord from midnight Tuesday until July 10, U.S. State Department senior adviser Marie Harf said in an e-mail.
"The market's preparing itself for more oil to come," said Bill O'Grady, chief market strategist at Confluence Investment Management in St. Louis, which oversees $3.4 billion. "The euro's drop is contributing to oil's weakness."
Long Way
Iran's plan to sell more crude remains a long way off, Goldman Sachs Group Inc., Bank of America Corp. and Societe Generale SA said last week. Its goal of boosting exports by 50 percent would require an extra 500,000 barrels a day of production, which the banks project will take six to 12 months as the country revives aging oil wells.
"If an Iran deal happens, I won't be surprised to see oil fall further," said Tariq Zahir, a New York-based commodity fund manager at Tyche Capital Advisors.
OPEC's output surged last month to the highest level since August 2012 as Iraq joined Saudi Arabia in raising output. The 12-member group, which supplies about 40 percent of the world's oil, pumped 32.1 million barrels a day in June, data compiled by Bloomberg showed.
In the U.S., crude stockpiles were probably unchanged in the week ended July 3, according to the median estimate in a Bloomberg survey before an Energy Information Administration report Wednesday. Supplies in the world's largest oil consumer were previously at 465.4 million barrels.
Inventories fell 958,000 barrels last week, the American Petroleum Institute reported, according to ForexLive.
"We'll continue to see a very bumpy ride for the near term," said Paul Crovo, a Philadelphia-based oil analyst at PNC Capital Advisors.
Before it's here, it's on the Bloomberg Terminal.
LEARN MORE