OECD's Gurria Expects Greece Deal to Keep Nation in Euro Area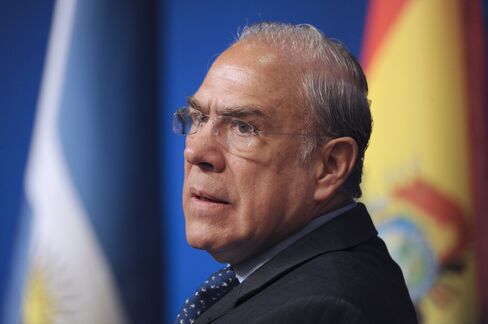 Greece will reach a deal with its creditors allowing the nation to remain in the euro area because the potential price for failure is too high, said Angel Gurria, head of the Organization for Economic Cooperation and Development.
"There are too many people who have a lot at stake who are very important and very smart, and everybody wants a deal," Gurria, the OECD secretary-general, said in an interview in Mexico City on Monday. "We know the cost of some of the solutions. We don't know the cost of not having one."
Unless it finds a way out of its cash crunch, Greece could drift toward an exit from the euro area -- an outcome that Greek Prime Minister Alexis Tsipras and other European leaders say they want to prevent at all costs. Gurria said he expects Greece to avoid a debt default because it wouldn't be in the best interests of the nation nor its creditors.
"Everybody has constraints," said Gurria, 65, who served as Mexico's chief negotiator during a debt restructuring in the late 1980s and then as finance minister before taking the helm of the Paris-based OECD in 2006.
"The secret is to what extent does every one of the parties understand the others' constraints, and how can you accommodate that," Gurria said.
Earlier Monday, German Chancellor Angela Merkel said "time is running out" for Tsipras to come up with a plan to keep his country in the euro as its citizens endure a second week of capital controls. Finance ministers from the 19-member region are set to gather on Tuesday for an emergency meeting.
"I don't see anybody leaving the euro, I see more people wanting to join the euro," Gurria said.
Before it's here, it's on the Bloomberg Terminal.
LEARN MORE