Iran Talks Drag On With Make-or-Break Date Pushed Back to Friday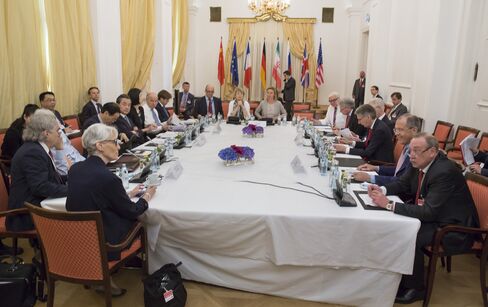 Diplomats missed another deadline for a nuclear deal with Iran and may prolong talks until the end of the week or beyond, as they spar over an arms embargo and what would happen if the accord is breached.
World powers extended until July 10 the interim arrangement that freezes Iran's most sensitive nuclear work in exchange for limited relief from sanctions. While the negotiators in Vienna are playing down talk of deadlines, the timetable for review by the U.S. Congress means that any further easing of the curbs will be delayed by at least a month if a final agreement isn't reached by Friday morning.
"We're frankly more concerned about the quality of the deal than we are about the clock, though we also know that difficult decisions won't get any easier with time," U.S. State Department senior adviser Marie Harf said.
All sides say they're closer than ever to a deal after 11 straight days of high-level talks in the Austrian capital. For energy-rich Iran, an agreement would speed its return to world oil markets and the international financial system. The world powers say any deal must restrict the Islamic Republic's ability to pursue nuclear weapons.
The biggest remaining disputes are over Iranian demands to lift a United Nations arms embargo, and agreement over a mechanism that would allow the renewal of sanctions in case Iran violates the deal, Russian Foreign Minister Sergei Lavrov told reporters. Iran is also seeking "snap-back" arrangements so that it can resume uranium enrichment if the other side breaks its promises.
'Closer You Get'
"The closer you get, the parties get more interested in securing concessions from the other side," Lavrov said.
Western diplomats say that a UN arms embargo and restrictions on Iran's missile program will have to remain. A senior Western diplomat said there was a "very heated exchange of views" with Iranian Foreign Minister Mohammad Javad Zarif at a meeting late Monday.
A senior U.S. official said that while it would be a "tragedy" for talks to collapse after two years, failure is a real possibility if Iran refuses to meet the terms needed for a strong and durable deal.
French Foreign Minister Laurent Fabius, who left the talks and plans to return Wednesday, said that disagreements also remain over limits on Iran's nuclear research and development. His U.K. counterpart Philip Hammond left Vienna saying he planned to return on Wednesday night for talks that will reconvene on Thursday.
Miscalculation Risk
Diplomats have now missed five of their self-imposed deadlines. Dismissing the idea that Friday is the new one, Iranian Deputy Foreign Minister Abbas Araghchi said that "no deadline is sacred to us" and that Iran's diplomats "are prepared to stay in Vienna until whatever time necessary," according to Iranian news agency ISNA.
Failure to reach an accord by July 10 would double to 60 days the time that the U.S. Congress has to review the deal, dimming the possibility that Iran could win substantial sanctions relief this year.
The cutoff point for Congress is the end of Thursday in Washington, or 6 a.m. Friday in Vienna.
"The entire agreement right now is at the mercy of a miscalculation on either side," International Crisis Group analyst Ali Vaez said in an interview at the sidelines of the Vienna talks. "There won't be a deal until the last minute, while each side waits for the other to blink first."
For more, read this QuickTake: Iran's Nuclear Program
Before it's here, it's on the Bloomberg Terminal.
LEARN MORE