Greek Stock Market Suspended for Two More Days Amid Bank Closure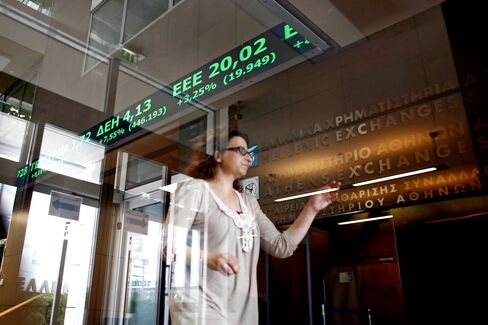 Greece's stock market will remain closed on Tuesday and Wednesday after a bank holiday was extended.
The alternative market of the Athens Exchange will also stay shut, Alexandra Grispou, spokeswoman for the exchange operator, said in e-mailed comments. Equity trading in the debt-ridden country has been suspended since June 29 after the government closed banks and imposed capital controls.
An exchange-traded fund listed in the U.S. is the only play available for Greek stock speculators, with a similar fund with European listings also suspended since last week. The Global X FTSE Greece 20 ETF closed down 7.5 percent yesterday. It traded a record number of shares in the four days through Thursday, plunging 19 percent on the day regulators closed the country's stock market.
After Greeks voted against austerity measures in a referendum on Sunday, Prime Minister Alexis Tsipras was given hours to come up with a plan to keep his country in the euro. Finance ministers and leaders from the 19-member region gather this afternoon.
Read this next:
Before it's here, it's on the Bloomberg Terminal.
LEARN MORE