Fund Manager Perry Joins Loeb, Cohen as Top 200 Art Collectors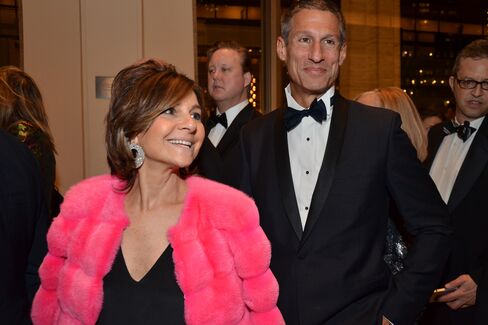 Hedge fund manager Richard Perry and actor Leonardo DiCaprio joined the list of the world's top 200 art collectors compiled by ARTnews magazine.
The list's 25th edition, published on Tuesday, includes 23 newcomers from Asia, Europe, North and South America and the Middle East. Billionaires Eli Broad and Norman Braman are among 13 collectors who have been on the annual list since 1990.
"It creates the best picture we can of the spectrum of the top collectors globally across collecting categories," said Sarah Douglas, editor-in-chief of ARTnews.
With art prices at record levels, collecting has become a high-stakes investment, especially in the dominant contemporary category. The financial sector accounts for 39.5 percent of collectors' source of wealth this year, up from 11.5 percent in 1990, when the list included a psychoanalyst and a retired postman.
Chinese collectors supplanted those from Japan as the main buyers in Asia, though major collectors also come from Bangladesh and Malaysia. Now, new players quickly rise to the top by snapping up masterpieces at auctions and building private museums to show them off.
Longtime Collectors
Perry, president and chief executive officer of Perry Corp., and his fashion designer wife Lisa made the list for the first time. Their collection focuses on Pop Art and includes Jeff Koons's sculpture of a giant green diamond.
The Perrys began collecting when they met 30 years ago, Lisa Perry said in a telephone interview. They started in the 1980s with American artists including Jennifer Bartlett and Jenny Holzer. They later turned to Pop Art, with the centerpiece of their Manhattan apartment a large painting of a room's interior by Roy Lichtenstein.
Other hedge fund managers on the list are Daniel Loeb, Daniel Och, Pierre Lagrange, Dan Sundheim and Ken Griffin, who is making his 12th appearance. Steve Cohen, a former hedge fund manager who now manages his own money, is listed for the 14th consecutive year.
DiCaprio, who attended New York's $2.7 billion auctions in May and the $3.4 billion Art Basel fair in Switzerland in June, is another newcomer. In June, he promised to donate a large-scale installation by John Gerrard to the Los Angeles County Museum of Art. In 2013, he raised $39 million for conservation projects through a special auction at Christie's in New York.
Active Participants
The list is unranked, global and based on input from 10 international correspondents and interviews with about 100 art dealers, advisers, auction house specialists as well as directors of museums and art fairs, according to Douglas. Each name is accompanied by the collector's primary residence, source of income and category focus.
"Omissions are inevitable because the number of active participants has expanded so vastly in recent years," said Noah Horowitz, director of the Armory Show, the largest annual contemporary art fair in New York.
Another hurdle for comprising a list is that most transactions are private and secrecy is paramount in the largely unregulated art market.
"It's the visible tip of a very discreet world," said Todd Levin, director of Levin Art Group in New York, who advises collectors. "There are a lot of people who are major buyers who don't appear on any lists at all. For some people there's a tremendous amount of cachet to be included. For others it's anathema."
Private Museums
Contemporary art attracted 90 percent of collectors on the list, up from 58 percent in 1990, according to the survey. Interest in Impressionism and post-Impressionism fell to 9 percent from 14 percent in 1990.
Reflecting the private museum boom, 46 collectors have their own exhibition spaces, according to the magazine. Tony and Elham Salame, Beirut-based fashion retailers who are opening a private museum in October, are on the list for the first time. So is Vancouver-based real-estate entrepreneur Bob Rennie, who has a collection of about 200 artists. Since 2009, Rennie has run a private museum and in June he was elected to the board of directors of the Art Institute of Chicago.
"We've been kicked out of the closet," Rennie said jokingly about his inclusion on the list. "It's over."
Before it's here, it's on the Bloomberg Terminal.
LEARN MORE