Butterfly Spread Sags in Japan as Banks Drawn to Liquid Middle
Japanese banks are making the nation's 10-year government bonds too expensive relative to Treasuries and German bunds, according to PineBridge Investments Japan.
A gauge known as the butterfly spread, which measures how high or low 10-year yields are relative to 2- and 30-year bonds, slid to minus 61 basis points for Japanese sovereign debt on Wednesday in Tokyo, compared with positive readings of 85 basis points in the U.S. and 14 basis points for bunds. The lower the number, the more expensive the middle-dated security is relative to those at the extreme ends of the yield curve.
Regional and smaller lenders are snapping up Japan's benchmark bonds as the Bank of Japan's record monetary easing and a flight to safety from Greece's debt crisis keep 10-year yields below 0.5 percent. The banks bought 876.2 billion yen ($7.2 billion) of 10-year debt in May, 17 times more than a year ago, Japan Securities Dealers Association data show.
"Local banks and the like are piling into 10-year bonds without considering things like their global fair value," said Tadashi Matsukawa, Tokyo-based head of fixed-income investment at PineBridge. Japan's banks focus on 10-year debt because its higher liquidity gives them "a sense of security," even as the extremely low yield discourages foreign investors, he said.
The yield has declined 10 basis points to 0.42 percent since July 2 as Greeks voted "no" to creditors' austerity demands in a weekend referendum. Ten-year yields were 2.21 percent in the U.S. and 0.66 percent in Germany.
Global Butterflies
Based on butterfly spreads, 10-year Japanese government bonds were the most expensive in a year relative to equivalent bunds last month. The gauge for the JGBs came within a basis point of the widest gap versus Treasuries since November.
In addition to their purchases of 10-year JGBs, regional lenders bought 115.2 billion yen of medium-term debt and 153.2 billion yen of super-long securities in May.
"Banks are being forced to expand investments to longer debt from the middle, where they are comfortable, because they're struggling to boost lending amid the low yields produced by the BOJ's massive stimulus," said Hidenori Suezawa, an analyst at SMBC Nikko Securities Inc. in Tokyo. "Megabanks can cut down on buying bonds as they have other opportunities like lending money abroad, which regional banks don't."
The 10-year JGB yield dropped to a record low of 0.195 percent in January after the central bank increased its bond purchases to as much as 12 trillion yen per month last October.
While the benchmark bonds may be expensive, an expansion of BOJ easing may support two-year notes, PineBridge's Matsukawa said. Yields on the notes were at 0.005 percent.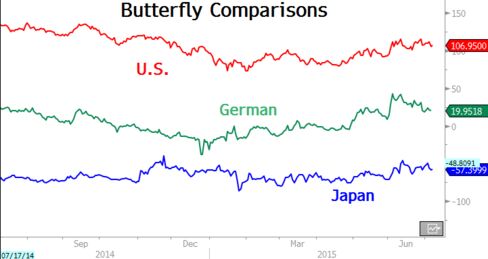 "The market expects the BOJ to continue easing," he said. "If that's indeed the case, it's best to hold on to shorter-term notes, because there's no fear that prices will collapse."
Before it's here, it's on the Bloomberg Terminal.
LEARN MORE