Bond Dealers Catch Break as Safety Demand Boosts Treasury Sale
U.S. debt sales are proving to be 'liquidity events,' dealers say
Bond dealers caught a break and ended up owning the second-lowest percentage of three-year notes sold at a U.S. Treasury auction since 2010 as investors sought safer assets amid the escalating Greek crisis.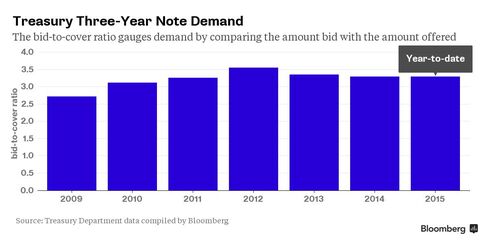 The risk that Greece is unable to come to terms with its creditors, leading the country to exit the euro, has spurred a flight to safe investments and led investors to push back their bets for when the Federal Reserve may raise interest rates. Tumbling stocks prices in China and a global drop in commodities added to risk-averse conditions.
``The reception at the auction suggests some appetite for the front end,'' said Aaron Kohli, an interest-rate strategist BNP Paribas in New York, one of the 22 primary dealers that are obligated to bid at the auctions. ``A fairly decent three-year auction suggests some confidence from investors there's not going to be an imminent hike, especially with the backdrop of Greece.''
The primary dealers bought 38.4 percent of the of the $24 billion auction, compared with an average of 42.7 percent at the previous 10 auctions.
The bid-to-cover ratio, which gauges demand by comparing the amount bid with the amount offered, was 3.16, down from 3.33 in June and an average of 3.29 at the 10 previous offerings. The ratio is 2.84 for the entire $1.081 trillion in notes and bonds sold this year, compared with 2.98 in 2014.
``A lot of investors like to use the auctions as liquidity events, so it's easier to set a price'' for their purchases, said Neil Bouhan, a fixed-income strategist in the Chicago office of BMO Capital Markets. ``That held up today, so the takeaway is that there's still a lot of demand, even at richer prices.''
The Treasury is scheduled to auction $21 billion of 10-year notes Wednesday and $13 billion of 30-year bonds July 9.
Before it's here, it's on the Bloomberg Terminal.
LEARN MORE