Blackouts, Dodgy Sellers Are Part of Life Making India's Alibaba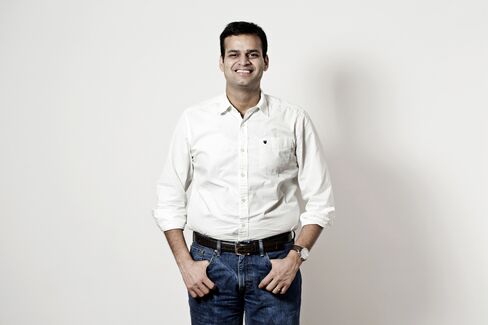 The blackouts don't faze Rohit Bansal. The co-founder of Snapdeal.com is talking in a worn conference room at his company's New Delhi headquarters, and when the lights go out he simply flicks on his smartphone to illuminate the room. Outside, employees feel their way through darkened hallways.
Bansal is fixated on the prospects of building an online retailer in India comparable to Amazon.com Inc. or Alibaba Group Holding Ltd. Commerce in the country is chaotic, he explains, while the population of more than a billion people has rising incomes and is desperate for a better way to shop.
"We didn't realize we were sitting on this massive opportunity," said Bansal, a gangly 32-year-old who co-founded Snapdeal five years ago with high school pal Kunal Bahl.
He's not the only who thinks so. Big-money backers are swarming into India in hopes of imitating the success of China's Alibaba, which last year held the largest initial stock offering ever. SoftBank Group, the primary backer of Alibaba, is betting on Snapdeal, leading investments of almost $1 billion. New York-based investment firm Tiger Global Management LLC and Accel Partners, the venture firm behind Facebook Inc., are supporting market leader Flipkart, which has raised nearly $2.5 billion. Amazon's Jeff Bezos has pledged $2 billion to build his India business.
The trio is targeting an e-commerce market that's projected to surge in the next five years like China's has in the past five. The winner could see a payoff like the $200 billion-plus valuation bestowed upon Alibaba after it unlocked the potential of e-commerce in China. The risk? The market is quashed by the dizzying difficulties of India, from poor payment systems and dishonest merchants to woeful roads and unreliable electricity.
China Epiphany
"This is where China was eight to 10 years ago, so the foreign funds want a piece of the action," Krishnan Ganesh, a local entrepreneur who has started several businesses including an online learning service that he sold to Pearson Plc. "In the next five to 10 years, you will see an explosion."
Bansal and Bahl started Snapdeal in 2010 as an online seller of coupons, much like Chicago's Groupon Inc. They were focused on building that business, pretty much convinced that e-commerce in India was overcrowded with few opportunities.
Then they went to China. In 2011, they saw how Alibaba was using a model unlike Amazon's -- and different from Indian companies such as Flipkart. While Amazon and Flipkart built warehouses and stocked their own products, Alibaba never touched the goods. Instead, it simply acted as a digital marketplace, letting buyers and sellers connect over the Web. The advantage of no inventory or infrastructure was obvious.
'Doing It Wrong'
"We felt like everyone was doing it wrong," said Bansal during the interview in one of Snapdeal's seven buildings, clustered within South Delhi's Okhla industrial zone. "We realized e-commerce in India was too inspired by the U.S. -- the world had moved on."
In 2012, the pair shifted Snapdeal to a marketplace similar to Alibaba. The approach let them focus on building the website and adding sellers, instead of stocking goods. More than rivals, Snapdeal has pushed to add merchants quickly, reasoning that customers will be drawn by a broader selection.
The company also set up a "nursery program" to help sellers understand everything from how to pack products to when to replenish inventory. "Many merchants are selling online for the first time," said Bansal.
After three years, the site boasts 150,000 merchants, the most among the top three e-retailers. Bansal contends the number of registered sellers is Snapdeal's biggest strength. Amazon India has 4,500 merchants, while Flipkart has 30,000.
Shipping Bricks
The website makes clear Snapdeal's ambitions go beyond traditional e-commerce. You can buy a toilet or a car, pre-order an apartment, apply for a home loan and pay your phone bill. There are shirts for $2 and golden wedding gowns for $5,400.
The approach helped Snapdeal close the gap on Flipkart. The value of merchandise sold on its site hit an annualized rate of $3.5 billion in May, more than triple the total a year earlier. Flipkart's annualized rate that month was $4 billion.
Snapdeal's strategy has risks. Ensuring all those sellers deliver on their promises and adhere to quality standards is proving a constant challenge. Angry customers have taken to Facebook and Twitter to complain about delayed or stolen orders. One man who ordered a Samsung phone for his wife got a brick instead. Regulators have taken action against the company for selling sex toys and pharmaceutical drugs, both not permitted for online sale in India.
Flipkart is putting more emphasis on screening merchants before letting them offer products on its site. Mukesh Bansal, who oversees Flipkart's marketplace operations, said in an interview at his Bengaluru office the e-retailer is focused on "high-quality sellers."
Cars, Rain
"In trying to be the Alibaba of India, Snapdeal is trying to do everything at once -- it puts an operational challenge on the organization," said Sandeep Murthy, a partner in Mumbai-based Lightbox Ventures.
The challenges can be seen around Snapdeal's cramped offices in Okhla, a neighborhood designed to house small businesses but now crowded with drugmakers, apparel factories and software developers. The lack of parking garages means roads are crammed with haphazardly parked cars; poor drainage means a 30-minute rain shower leaves the area flooded for hours.
In a country that has 39 million people shopping on the Internet, one eighth the number in China, drawing more of these reluctant online shoppers is the biggest challenge, according to Snapdeal's Bansal.
"Who are the people who shop online in India now?" he said. "We want to bring the others who've never shopped online into this market."
War of Attrition
E-commerce companies are offering heavy discounts, cash incentives and free delivery to entice customers. Goldman Sachs estimates Snapdeal and its rivals lose on average $1.35 for every dollar in sales. Together, they'll need at least $20 billion in fresh funds to reach a "steady state" by 2020, the firm said in a report on India e-commerce.
Bansal likes his odds if the competition becomes a war of attrition. He points out that SoftBank founder Masayoshi Son waited more than a decade for his payoff from Alibaba.
"They are very patient," he said. "They know this is a business you build for the long term."
After five years battling in the trenches of India's e-commerce market, Bansal says he feels like a veteran compared with younger entrepreneurs now entering the business. He and Bahl are investing in other Internet startups, including a food delivery app and a local Uber competitor, in part to stay on top of the business.
"We've barely scratched the surface," he said. "There is enormous growth ahead."
Before it's here, it's on the Bloomberg Terminal.
LEARN MORE