Asos Sees Full-Year Sales Near High End of Forecast Range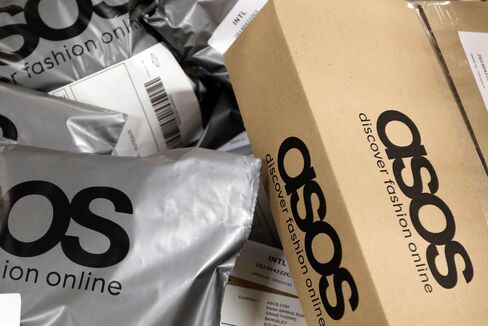 Asos Plc, the U.K.'s biggest online-only fashion retailer, said it expects full-year sales will be at the higher end of its forecast range as price cuts abroad lure customers.
Asos expects revenue growth to be closer to the top end of 20 percent than to 15 percent, the London-based company said in a statement Tuesday. Retail sales advanced 20 percent in the four months through June.
"We are seeing clear positive results and a business which has regained its momentum," Andrew Wade, an analyst at Numis, wrote in a note to investors. He raised his forecast for full-year pretax profit 1.5 percent to 46.5 million pounds ($72 million), near the year-earlier level.
Asos, which sells Vivienne Westwood clothing and Vans shoes targeted at twenty-somethings, has introduced local pricing to better adjust to currency swings abroad given the strength of the pound. The strategy has spurred sales, allowing the company to expand free returns to let customers try garments.
The stock traded 1.1 percent higher at 3,894 pence as of 8:16 a.m. in London. Earlier the shares rose as much as 3.4 percent.
Earnings before interest and taxes will be about 4 percent of sales, Chief Executive Officer Nick Robertson said in the statement. The company said its full-year gross margin will be in line with last year's.
Four-month U.K. sales rose 27 percent, while revenue from abroad rose 16 percent. The weakness of currencies against the pound stripped 7 percentage points from growth outside the U.K.
The retailer has changed how it reports interim trading, now commenting on the first four months of each half-year period rather than the first three months.
Before it's here, it's on the Bloomberg Terminal.
LEARN MORE