Afghanistan to Hold First Official Taliban Talks Since 2001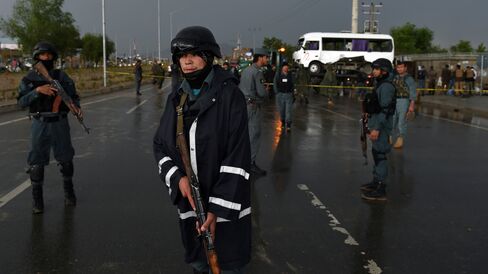 Afghan officials will formally meet Taliban representatives Wednesday for the first time since 2001 in the latest effort to end to the nation's war.
The face-to-face meeting will take place in Pakistan's capital, Islamabad, Sayed Zafar Hashemi, a deputy spokesman for Afghan President Ashraf Ghani, said in a phone interview in Kabul on Tuesday. Four Taliban and three Afghan officials will participate, he said.
Deputy Foreign Ministry Hikmat Khalil Karzai is leading the government delegation, according to Afghan media reports. Taliban spokesman Zabihullah Mujahed said in a phone interview he was unaware of the meeting and couldn't immediately comment.
This is the first time the Afghan presidency has confirmed direct talks with Taliban since 2001, when the fundamentalist Islamic organization was ousted from power by U.S. forces. Members of the government's High Peace Council, however, have held unofficial talks with Taliban representatives in locations including Qatar, China and Dubai. The latest unofficial talks took place in Oslo mid-June.
The timing of the meeting is unexpected, coming less than three weeks since Taliban militants rammed a car full of explosives into the main gates of the Afghan parliament killing five people. That incident followed a series of Taliban attacks in Kabul on locations including the parking lot of the Justice Ministry and a guest house popular with foreigners. The various strikes have raised questions about the Ghani administration's ability to provide security in its own capital.
92,000 Deaths
The government in recent months also has lost control of districts elsewhere in the country.
More attacks threaten President Barack Obama's pledge to end America's longest war before he leaves office in January 2017. After ending combat operations in December, he's already slowed down the withdrawal. In March, he agreed to keep about 4,000 more troops in Afghanistan by year's end than originally planned.
The war in Afghanistan resulted in almost 92,000 deaths and almost 100,000 injuries between 2001 and 2014, according to a Brown University report released in June. That toll includes Afghan and foreign civilians, foreign forces, and insurgents.
Since taking office last year, Ghani has tried to persuade Pakistan to help promote peace talks with the Taliban. Pakistan has long been accused by Afghan officials of nurturing the Taliban and using them as proxies to destabilize Afghanistan and maintain Pakistan's geopolitical interests.
Before it's here, it's on the Bloomberg Terminal.
LEARN MORE