Welcome to Castle Asparagus, Where an Iran Deal May Be Forged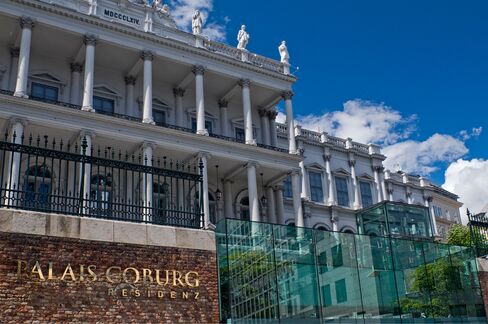 In an ironic twist, nuclear talks with Iran are taking place above an ancient gunpowder depot: a former aristocratic abode known as "Castle Asparagus."
There is history to Palais Coburg, the proper name of the five-star luxury hotel hosting the negotiations between foreign ministers from world powers in the Austrian capital.
"The negotiators are sitting on a former powder-keg," quipped Martin Weiss, head of the press department at the Austrian Foreign Ministry, which is organizing the talks. Weiss said the Palais Coburg also has some "great facilities."
U.S. Secretary of State John Kerry and his Iran counterpart, Mohammad Javad Zarif, have gone over the fine print of a nuclear deal in opulent salons of gilt-edged mirrors, vast chandeliers and impossibly high ceilings.
Several feet below them are 16th-century vaulted brick cellars once part of the city's fortifications. The Viennese stored gunpowder and weapons there when they came under Ottoman siege in 1529.
Prince Ferdinand von Sachsen-Coburg built the palace in the mid-1800s. The Viennese took one look at the two rows of slender white columns on its neo-classical facade and gave it the unflattering moniker that has stuck through the ages.
Any agreement thrashed out here is unlikely to go by the Treaty of Castle Asparagus.
Treaty Name?
Weiss, a former ambassador, laughed when the suggestion was put to him: "I'm not sure who will decide the name for the accord," he said. "It's a fact that everyone is negotiating in Vienna, but the name 'Treaty of Vienna' is taken."
Vienna is no stranger to trailblazing accords. A 15-minute walk away is the more impressive Habsburg Imperial Palace, where two centuries ago ambassadors forged Europe's borders anew at the Congress of Vienna after the Napoleonic Wars.
For ministers and their entourage negotiating into the small hours, Castle Asparagus is hardly a hardship assignment.
The hotel's 34 suites are priced from 1,150 euros ($1,270) a night to 3,950 euros, according to the hotel's website. The motto emblazoned above the price list reads: "You only live once."
Leisure facilities include a rooftop spa with sun terrace, and a two-Michelin-star restaurant. Six wine cellars hold a total of 60,000 bottles "with rarities from four centuries," says a hotel brochure.
Utmost Secrecy
Hotel staff are under strictest orders to maintain discretion. A press officer at the hotel declined to be interviewed, saying hotel policy was to say nothing about the talks, or about guests.
Late-night negotiators - in particular those from the Islamic Republic - should be wary of walking around the block on which the Palais Coburg sits.
On two corners there are nightclubs offering performances by very scantily-clad women. At the Beverly Hills Girls Club, posters entice with a "Magic Moments" show on Wednesday nights, running from 9 p.m. to 5.a.m.
On one recent Wednesday night, the door was left open, revealing to passersby a tall woman, naked save for a black G-string, gyrating slowly for her audience.
Before it's here, it's on the Bloomberg Terminal.
LEARN MORE