McIlroy May Miss British Open After Injuring Ankle Ligament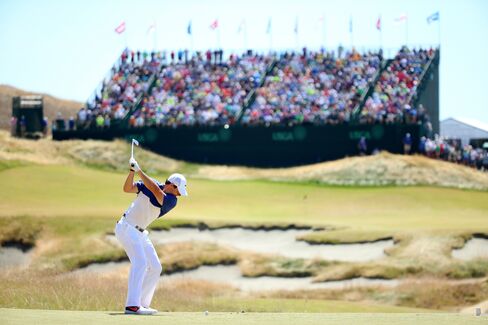 Rory McIlroy is unlikely to defend his British Open title after the top-ranked golfer ruptured an ankle ligament playing soccer with friends.
The Northern Irishman posted a picture of himself on Instagram showing his left leg in a plastic cast nearly up to his knee. He was using crutches.
"Total rupture of left ATFL (ankle ligament) and associated joint capsule damage in a soccer kickabout with friends on Saturday," the golfer said on Instagram. "Continuing to assess extent of injury and treatment plan day by day. Rehab already started..... Working hard to get back as soon as I can."
McIlroy won't play in the Scottish Open, which runs July 9-12 in Gullane, the European Tour said in an e-mailed statement. The injury "came from what seemed an innocuous ankle twist as the World No. 1 ran towards the ball," the tour said.
The 26-year-old "will not make a decision as to when he next tees up until the end of this week at the earliest," the European Tour said.
Read this next:
With McIlroy likely to miss the British Open, which runs from July 16-19 in St. Andrews, Scotland, the pre-tournament focus on American Jordan Spieth will increase. Spieth, 21, has won golf's first two Grand Slam events, the Masters Tournament in April and the U.S. Open last month, making him the youngest player to hold both titles at the same time.
Bets Refunded
Internet bookmaker Betway said it will refund all wagers placed on McIlroy for the British Open and cut the odds on Spieth winning to 11-2 from 6-1 after McIlroy's injury. That means a successful $1 bet would return $5.50 plus the original stake. Dustin Johnson of the U.S., who finished in a tie for second place behind Spieth at the U.S. Open, is 12-1 at Betway.
The injury could also have a long-term impact on McIlroy's career. As a right-handed golfer, McIlroy puts most of his body's weight on his left foot during his downswing and pivots on his left ankle during his follow-through.
Tiger Woods, a right-handed golfer like McIlroy, has undergone five surgeries on his left knee during his career. He hasn't won one of golf's four majors since undergoing the latest of those surgeries in June 2008. In 2011, Woods injured his Achilles tendon in his left ankle and missed more than two months of play, including that year's U.S. and British Opens. He's currently ranked No. 226 in the world.
McIlroy has won three of the 12 events he's played this year, and won last year's British Open at the Royal Liverpool by two strokes.
Before it's here, it's on the Bloomberg Terminal.
LEARN MORE