Renault Unveils Talisman to Revive Europe Sedan Market Presence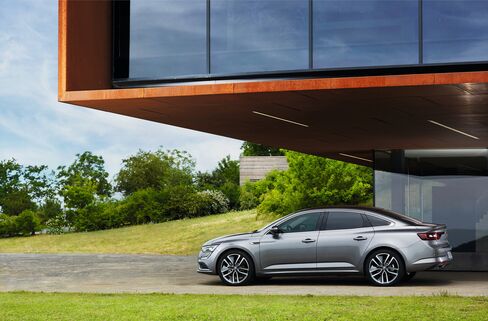 Renault SA unveiled the midsize Talisman, one of four new models it's bringing out this year, as the French carmaker seeks to revive its presence in a declining European sedan market.
The Talisman is set to replace the eight-year-old Laguna, which never met delivery targets. Equipped with a wider body than its predecessor and electronic features such as a cockpit-control tablet and parking-assist technology, the sedan's roomier interior is intended to challenge the likes of Volkswagen AG's Passat and Ford Motor Co.'s Mondeo, Renault Chief Executive Officer Carlos Ghosn said.
"We decided to position this car on a certain number of parameters" to distinguish it from competitors, including making the Talisman "virtually the same" length as the Mondeo, Ghosn said Monday at a press conference in the Paris suburb of Chantilly.
The French manufacturer is pushing to increase profitability by making the namesake Renault brand more upscale. The effort includes more aggressive styling, expanding the Initiale Paris insignia into a separate luxury line and transforming the Espace minivan into a full-size crossover. Renault is also looking at bringing back the Alpine sports car after two decades.
Shrinking Demand
The company, based in the Paris suburb of Boulogne-Billancourt, is taking a gamble in a model segment that's shrinking. Sedans accounted for just 8.2 percent of the European car market in 2014, down from 17 percent in 2000, according to IHS Automotive. With demand being eroded by competition from sport utility vehicles and compacts, that share is likely to narrow to about 1 percent by the end of the decade, the research company estimates.
"This is a market that's been declining for a long time now," said Carlos Da Silva, a Paris-based analyst at IHS. "But as a generalist carmaker, they need to have one sedan."
The Laguna's peak sales year was in 2008, when 96,000 cars, including almost 89,700 in Europe, were delivered to customers. That compares with an initial goal of 190,000 Laguna sales a year. Demand has declined since then, with Renault selling 16,034 of the vehicle in Europe last year and just over 5,200 in the first five months of 2015, according to company figures.
The Talisman will be built at Renault's plant in Douai, France, and is scheduled to begin deliveries at the end of this year, the manufacturer said.
Before it's here, it's on the Bloomberg Terminal.
LEARN MORE