Polish Opposition Rejects Greek Parallels as Budget Plans Bashed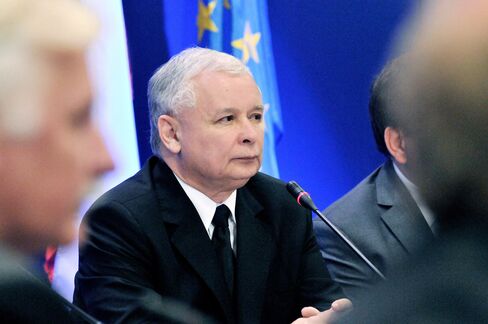 Polish opposition leader Jaroslaw Kaczynski rejected government accusations that his economic policies may lead the country toward a Greek-style debt crisis.
Finance Minister Mateusz Szczurek branded the proposals as "irresponsible," especially planning to finance 39 billion zloty ($10 billion) of new spending mostly through an improvement in tax collection. The program, unveiled two days ago as opinion polls show Law & Justice winning a general election slated for October, also drew criticism from economists at mBank SA, Societe Generale SA and ING Groep NV. The zloty underperformed most emerging-market peers on Monday.
The government, set to curb Poland's fiscal deficit to less than 3 percent of economic output this year from 7.8 percent in 2010, has said the opposition's plans raise the specter of a crisis in the biggest post-communist European Union member. Such comparisons aren't valid as Poland functioned well when it ran higher budget deficits, Kaczynski said.
Criticism of his party's economic agenda reflects "screams of the privileged elites" who're afraid of losing the status quo, he told reporters in Warsaw on Monday.
Law & Justice has pledged to boost child benefits, lower the retirement age and offer higher tax-free allowances if it wins power. It said it would gain an additional 52 billion zloty, or almost a fifth of this year's planned budget revenue, by shoring up tax collection, especially loopholes in payment of value-added taxes and corporate taxes.
'Totalitarian State'
"Their spending proposals are in many cases underestimated, while plans to increase revenue look as if they tried to get rid of all war and famine," Szczurek told public radio 1 on Monday. "You simply can't ensure that all the taxes are paid unless you want to have a totalitarian state."
The zloty weakened 0.3 percent against the euro on Monday, the worst performance among 24 emerging-market currencies tracked by Bloomberg following Hungary's forint and the Colombian peso. Developing economies in Europe lagged peers after Greece voted against more austerity in Sunday's ballot.
Law & Justice's assumptions are "optimistic" and they include a "large margin of error," said Ernest Pytlarczyk, chief economist at mBank SA in Warsaw. Tightening tax collection is "extremely difficult," according to Jaroslaw Janecki, the chief economist for Poland at Societe Generale SA.
"The Law & Justice program is raising concern about the credibility of its estimates," Rafal Benecki, an economist for Poland at ING Groep NV in Warsaw, said in an e-mailed research note on Monday. "It only shows that it'll need to be brought back to reality after the election."
Beata Szydlo, Law & Justice's candidate for prime minister, said on Saturday her party plans to increase budget revenue by 73 billion zloty, including 5 billion zloty from new taxes on banks and 3 billion from levies on large supermarket chains. Poland's budget envisages 297.2 billion zloty in revenue this year and 343.3 billion zloty in outlays.
Jaroslaw Gowin, an ally of Law & Justice, said on Monday that the program was "definitely defendable," but that it will need to be modified as details are ironed out.
Before it's here, it's on the Bloomberg Terminal.
LEARN MORE