Osborne to Allow U.K. Cities to Extend Sunday Shop Trading Hours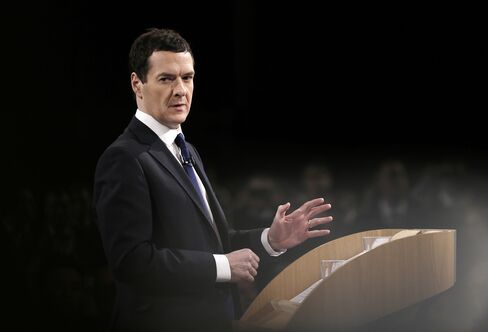 U.K. Chancellor of the Exchequer George Osborne is set to give mayors and local governments the power to allow shops to open for longer on Sundays.
The move, to be announced in Wednesday's budget, will allow local authorities to permit longer Sunday opening if they expect it to boost economic activity in their areas, according to a Conservative Party briefing note.
The current law prevents larger stores from opening for more than six hours on Sundays. It was relaxed during the 2012 London Olympics, resulting in a surge in sales.
"Even two decades on from the introduction of the Sunday Trading Act, it is clear that that there is still a growing appetite for shopping on a Sunday," Osborne said in a statement. "There is some evidence that transactions for Sunday shopping are actually growing faster than those for Saturday. The rise of online shopping, which people can do round the clock, also means more retailers want to be able to compete by opening for longer at the weekend."
Osborne -- whose Conservative Party's election campaign played heavily on his stewardship of the economy and on fostering a pro-business environment -- will deliver his first Tory-majority budget on Wednesday. He has also pushed for more powers to be devolved to cities.
Before it's here, it's on the Bloomberg Terminal.
LEARN MORE