Muted Bond Reaction to 'No' Vote Limits Greek Negotiating Power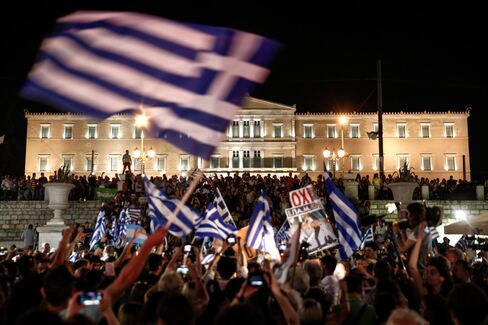 While Alexis Tsipras goes into fresh aid talks claiming Greece's "no" vote has boosted his negotiating position, the euro-zone government-bond market is telling a different story.
Modest declines in Italian, Spanish and Portuguese debt in the wake of Greece's emphatic rejection of austerity show investors are relatively sanguine about the risk of contagion. That leaves Prime Minister Tsipras's threat that a financial collapse in Greece would drag down the rest of Europe look increasingly weak, according to Moritz Kraemer, managing director of sovereign ratings at Standard & Poor's.
"The expectation of the Greek government, of course, has been that there would be a domino effect, and once Greece tumbles out of the euro zone, there would be more widespread contagion," Kraemer said in an interview on Bloomberg Television's "The Pulse" with Manus Cranny. "The contagion risk is actually fairly manageable. This is weakening the bargaining position."
It's the bonds of Greece itself which have borne the brunt of fresh investor concern that the nation will exit the 19-member euro bloc.
While the yield on 10-year Greek securities surged 336 basis points to 17.99 percent as of 11:07 a.m. in London, Spain's 10-year yield gained 10 basis points to 2.31 percent. Italy's rose nine basis points to 2.33 percent and Portugal's increased 12 basis points to 3.06 percent.
Time is running out for Greece to secure a new deal to save its economy from outright collapse. Euro-area leaders are due to meet on Tuesday for an emergency summit, while the European Central Bank is due to evaluate its next moves on Monday.
Before it's here, it's on the Bloomberg Terminal.
LEARN MORE