Loonie Bets
Loonie Storm Alert Is Sounded With Oil Poised to Swamp Demand
Canada's Dollar Faces Renewed Pressure, Tempting Speculators
One of Wall Street's favorite short bets looks ready for a comeback after the Canadian dollar plunged to its lowest point in more than two months.
The currency's fall Monday undoes all its gains since the Bank of Canada first expressed hope at its April interest-rate decision the economic fallout from crude oil's price collapse would be short-lived.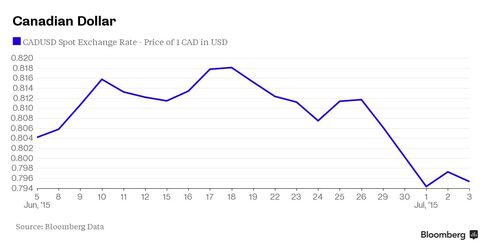 Crude prices had stabilized in recent months and helped the currency recover, but Brent crude fell below $60 a barrel Monday for the first time since April.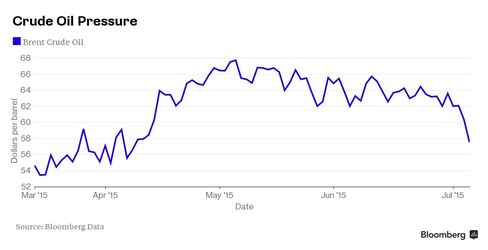 The renewed pressure on crude prices comes after signs the fallout from their first leg down wasn't as short-lived as the Bank of Canada thought. A report last week showed the economy contracted for a fourth straight month in April, bringing annualized growth to the slowest in two years. That's raised doubts about the central bank's forecasts for a strong rebound in the second quarter.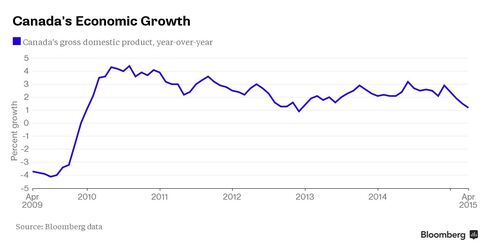 It's all attracted the attention of speculators, again. Hedge funds and other fast money pushed net bets against the loonie, as the Canadian dollar is known for the image of aquatic bird on the C$1 coin, to almost-record levels ahead of crude oil's collapse last year. After the currency and crude oil's surprising resilience the past few months beat them back, those positions are starting to grow again, data from the Commodity Futures Trading Commission showed.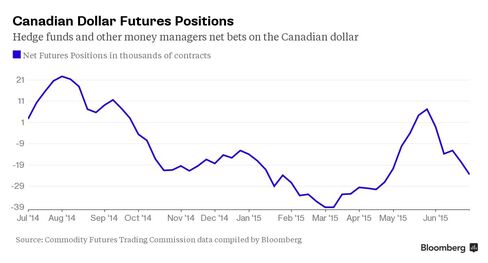 Before it's here, it's on the Bloomberg Terminal.
LEARN MORE