Japan Sees Greece as Proof Austerity Alone Won't Fix Deficit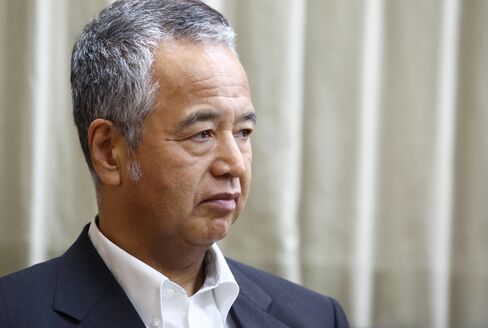 Greece's economic meltdown underscores how austerity alone can't solve a nation's fiscal problems, according to Japanese Economy Minister Akira Amari.
Greece is "cutting expenditure and raising taxes, and as a result, tax revenue has fallen further," Amari said in a July 2 interview at his Tokyo office. "It's proof that you can't fix finances by just raising taxes and cutting spending without increasing tax revenues by restoring the economy."
Amari confirmed his comments Monday after Greek voters rejected the austerity measures demanded by creditors in return for financial aid. Japanese Prime Minister Shinzo Abe has repeatedly said measures to stoke growth are needed to rein in the world's biggest debt burden, even as his government aims to cap spending increases.
Abe's Cabinet approved a plan last month to limit growth in general spending, which excludes debt payments and local government grants, to 1.6 trillion yen ($13 billion) over the next three fiscal years -- the same amount as in the past three years. The government is also seeking to reach a budget surplus, excluding interest payments, in fiscal 2020.
"The fiscal plan has no concrete or in-depth steps" to cut the deficit, said Hiroaki Muto, senior economist at Sumitomo Mitsui Asset Management Co. in Tokyo. "The plan shows that the government basically doesn't have much enthusiasm for fiscal reforms."
Growth Target
Japan is aiming to boost growth in real gross domestic product to about 2 percent over the medium-to-long term, with a 3 percent expansion of nominal GDP. Real growth, which discounts inflation, was minus 0.1 percent in 2014, and is projected to reach 1 percent this year.
"There is no fiscal reform without economic revitalization," Amari said. "Without continuing to steadily boost growth and increasing the size of the economic pie, just hiking taxes and cutting spending would leave us squirming."
In Greece, Prime Minister Alexis Tsipras came to power in January on a promise to unwind austerity measures that shrank the country's economy by a quarter and saw more than a million jobs disappear. The economic medicine had been imposed in return for loans needed to keep the country from default or financial collapse.
Amari told reporters in Tokyo on Tuesday he'll carefully monitor how the Greek crisis unfolds. "If Greece and the European Union can map out a plan to minimize damage, I expect any impact on nations outside the EU to be minimal," he said.
Sumitomo Mitsui's Muto said the two countries are hard to compare. "The size of the economies are different, and the economic conditions such as the current account balance also differ," he said.
Before it's here, it's on the Bloomberg Terminal.
LEARN MORE