How Universal Is Beating Disney at the Movies
Dinosaurs and cars trumped superheroes in the first half of the year
With half of the year gone, Comcast's Universal is running away with the box-office crown. Thanks primarily to two big films—Furious 7 and Jurassic World—the studio has drummed up $1.4 billion in domestic ticket sales during the first half of 2015, besting Walt Disney's $1.1 billion haul.
Warner Bros., last year's No. 3, stayed in third, as three of its big releases disappointed: Entourage, Jupiter Ascending, and Magic Mike XXL.
Here's a look at cumulative box-office revenue results thus far: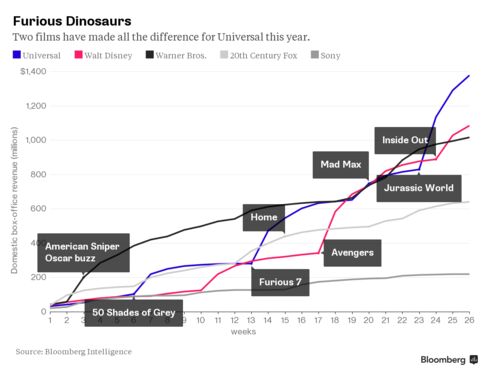 The spending patterns present three important points about today's movie business.
1. Blockbusters are king
Universal spent about $190 million to make Furious 7 and an additional $150 million or so on Jurassic World. In the words of Vin Diesel, it's a ride-or-die strategy, but both sums proved to be sound investments. To see just how much the movie industry now rides on lavish, so-called tentpole productions, take a look at the box-office race in the first half of last year. Aside from a few major releases, studio results were much less volatile: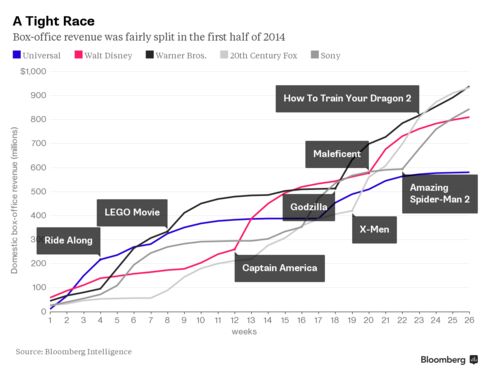 2. Reviews still matter
Warner Bros. is slightly ahead of its prior-year results despite a dearth of big movies. Oscar buzz from American Sniper gave it an early surge, and Mad Max: Fury Road rode a string of rave reviews to surprising success in May. Meanwhile, some of the studio's most touted films flopped. Entourage, the reboot of a hit TV series, drew only 31 "tomatoes" out of 100 on RottenTomatoes.com, an aggregator of film criticism. Jupiter Ascending managed only 25 on the Tomatometer, while Mad Max had a virtually perfect score.
3. Sony is sleeping
The studio didn't make many films this year, and none of its offerings did particularly well. Chappie, its most ambitious project, never got traction. Aloha, starring Emma Stone and Bradley Cooper, also flopped (19 tomatoes). By this time last year, Sony was coasting on cash from 22 Jump Street and The Amazing Spider-Man 2.
The rest of the year will be a battle of superheroes. Disney's Ant-Man, hitting theaters later this month, will duke it out with Fox's Fantastic Four, to be released in early August. Universal's summer hopes rest on Minions. James Bond's Spectre will try to save the day for Sony in November, before Star Wars sucks all the air out of the space in late December.
In the meantime, however, the dinosaurs still rule the earth.
Before it's here, it's on the Bloomberg Terminal.
LEARN MORE