How Do You Say 'Whatever It Takes' in Mandarin?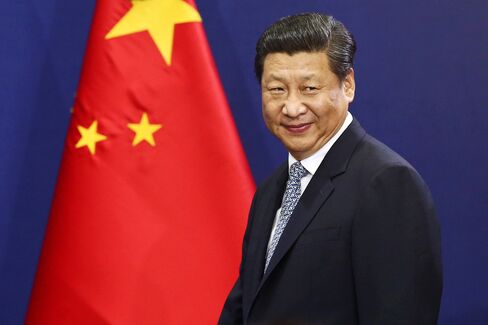 So much for China's pledge to let markets play a decisive role in the economy. Amid the country's worst stock slump since 1992, President Xi Jinping's government is dusting off its Communist Party playbook and unleashing all manner of state interventions to halt the slide in share prices.
New listings have been frozen, brokerages have pledged to buy shares, and the central bank has promised liquidity support. The scale of those and other moves test China's credibility on pledges since late 2013 to push through reforms like loosening capital controls. That's part of an embrace of markets as China tries to convince the International Monetary Fund to grant its currency, the yuan, reserve status, a step that would entrench financial reforms and help its companies expand overseas.
For now, though, the visible hand is back, with stabilizing equity markets as priority one. The Shanghai Composite Index has fallen 27 percent since its June 12 peak, posing policy makers with a dilemma: How to maintain the kind of economic stability that underpinned 35 years of growth while liberalizing a $10 trillion economy so it can keep expanding.
"The equity market saga will hardly persuade foreigners that China's markets are real markets," said George Magnus, a senior independent economic adviser to UBS Group AG in London.
A massive 150 percent run-up in stock prices from this time last year through June 12 was driven in part by leveraged retail investors, egged on by bullish statements by official state media. As those gains started to reverse, authorities in Beijing began to act to stave off losses to households. And the hit has been staggering: Some $3.2 trillion in market value was wiped out from when markets peaked last month. The Shanghai Composite closed 2.4 percent higher on Monday.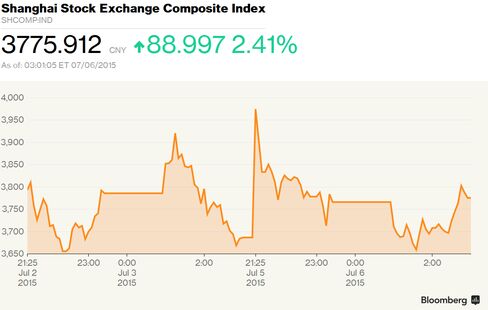 Greenspan Put
On June 27, the central bank cut its main lending rate and eased lending requirements for some banks, its first such dual-pronged move since 2008. The escalation in monetary easing drew parallels with a tactic by former Federal Reserve Chairman Alan Greenspan to cut interest rates in times of market turmoil, known as the "Greenspan Put."
"This saga shows that the leadership has not dealt with financial reform and liberalization well so far," said Liu Li-Gang, chief China economist at Australia & New Zealand Banking Group Ltd. in Hong Kong. "What they are doing now will exacerbate the moral-hazard problem."
China's policy makers are seeking to avoid a knock to growth stemming from losses on the share market. Bloomberg's monthly GDP tracker shows the economy has been below the government's targeted pace of about 7 percent all year.
A stock-market crash "would be a painful scenario, but the immediate damage should be manageable," Yao Wei, a China economist for Societe Generale SA in Paris, said in a note. "However, the long-term harm to structural reform and debt restructuring could be much graver, if equity financing were to slow down."
"Why stoke an equity-market boom when the economy and earnings are slowing, deflation is spreading, debt is rising and state-owned enterprise balance sheets are under stress? Because of course it's a palliative, and a substitute for tougher medicine," said Magnus.
Market Measures
China isn't the first country to try to stem a slide in stock prices. Euro-area nations have in the past introduced temporary short-selling bans to stem market volatility. And as far back as the Wall Street crash of 1929, bankers have collaborated to put a floor under collapsing stock prices.
While it's understandable officials take steps to stabilize markets, tinkering with them only raises the risks if asset prices fail to recover, said Fred Neumann, co-head of Asian economics research at HSBC Holdings Plc. in Hong Kong.
"Policy makers are then left with only one option, which is to ratchet up their response in a game of confidence with investors," Neumann said. "The risk, of course, is that the market over time becomes addicted to such support measures, leaving officials, at the very least, with an exit problem."
Faced with the option of coping with the fallout from a collapsed stock market or taking measures to support share prices, President Xi would probably choose the latter, said Angela Beibei Bao, an analyst with Rhodium Group in New York.
"I bet Xi is much more willing to be credited with a bull market rather than a bear market," she said.
— With assistance by Enda Curran, and Xin Zhou
Before it's here, it's on the Bloomberg Terminal.
LEARN MORE