Greece Will Live or Die by This Formula
What Greece needs is growth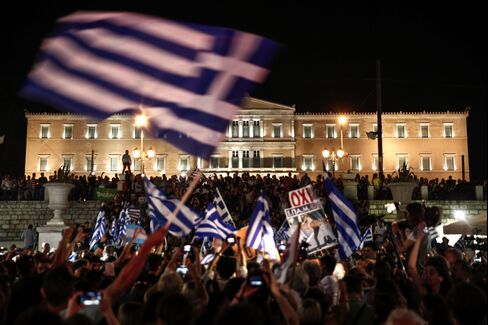 On Greece, do the math, and the math is blindingly simple.
Paul De Grauwe, a giant of fiscal European economics, says that Greece is solvent. His essay and his optimism are founded on The Formula.

De Grauwe's essay is a controversial and clear summary of one belief on Greece: Things are not nearly as bad as the creditors make them out to be; with courage and understanding, the haves of Europe can help Greece help itself. All that is needed, as with Iceland and Ireland and Cyprus -- three other countries that went through their own debt crises -- is top-line growth and, again, courage.
The Formula is timeless and in each and every basic economics text. (It gets less respect because it is a dry-as-dust fiscal equation compared with the steamy romance of monetary math.) In fiscal crises, the best-and-brightest always trot The Formula out. The truth is the dynamic simplicity of The Formula's core -- the (r-g) in the above -- always bears repeating.
The relationship is: A nation's debt-to-GDP ratio is equal to the critical dynamic of its nominal interest rate (the "r" in the above formula) minus its nominal growth rate (the "g"), applied to the previous debt-to-GDP ratio and then all of that compared to the nation's overall growth rate. Then take that movable feast and subtract the massive weight of its primary budget surplus. It is a deceptive and simple relationship but, in crisis, there is one key moving part. The key moving part, again, is (r-g). The "g" must equal or be higher than the "r" in The Formula. If the nominal interest rate ("r") is higher than the nominal growth rate ("g") then the government will face an ever-increasing debt-to-GDP ratio.
De Grauwe emphasizes that the key need for Greece is to see growth.
He is not alone on that, but with great clarity he suggests that far and away the most effective "help" Europe can give Greece is to implement a constructive growth path for Athens.
You can see how Greece's current growth ("g") stacks up against that of Portugal, Cyprus, Ireland, and Iceland in the below chart.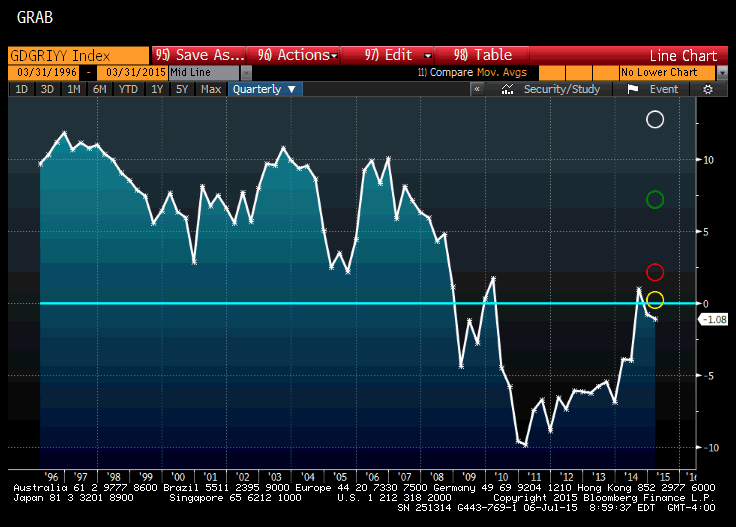 To De Grauwe, the sole path to a better Greece is economic growth, and growth that equals or exceeds the key interest rate.
In all cases of fiscal crisis recovery, this is what must happen. It happened in Iceland and Ireland, it is happening in Cyprus, and it somewhat happened in fragile Portugal. It is not happening in Greece.
Again, the chart just shows the "g" part of The Formula. It goes without saying that "r" must cooperate, too.
Read Paul De Grauwe's essay. Then reread it. Here is an outstanding treatise on the many important difference equations that lie beneath The Formula.
Discuss at time t-1, t, t+1, t+2 ...
Before it's here, it's on the Bloomberg Terminal.
LEARN MORE