Europe's Banks Lead Market Declines After Greece 'No' Vote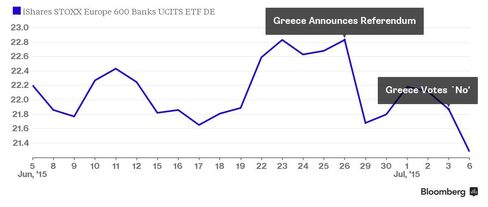 European banks slumped to the lowest in four months, erasing more than 36 billion euros ($40 billion) in market value, after Greek voters spurned their creditors' conditions for keeping the country from financial collapse.
The Stoxx 600 Banks Index fell as much as 3 percent, touching the lowest level since March 10, as the outcome of Sunday's referendum stoked uncertainty about Greece's future in the euro. The gauge closed down 2.6 percent with Italian banks among the biggest decliners, led by Banca Monte dei Paschi di Siena SpA, which tumbled 12 percent. Portugal's Banco Comercial Portugues SA dropped 7 percent, making it the second-worst performer.
Greeks voted overwhelmingly against demands for more economic overhauls in return for further bailout money from euro-area governments. Prime Minister Alexis Tsipras said a vote against creditors would strengthen his position in negotiations, while some euro-area leaders said it would amount to a decision to leave the currency union. .
German Chancellor Angela Merkel traveled to Paris on Monday for talks with French President Francois Hollande about the Greek crisis. European Central Bank policymakers were also due to discuss whether to keep supporting Greece's crippled lenders.
"The most likely scenario is the worst scenario which is the issue drags on," said Kevin Lilley, head of European equities at Old Mutual Global Investors, which oversees about 22.5 billion pounds ($34 billion) including Societe Generale SA shares. "In some way a Greek exit would be welcomed. It would be a resolution so the market could at least price it in."
Limited Exposure
While European lenders have limited direct exposure to Greece, they may be vulnerable to other market responses to the country's crisis, including price moves on government bonds. Italian bank holdings of the country's sovereign debt stood near a record high of 415.5 billion euros in April.
The "selloff is mainly affecting Italian lenders, given their relatively higher exposure to the country's government bonds," said Vincenzo Longo, a Milan-based strategist at IG Markets.
In a stress scenario, spreads of peripheral bonds may almost double, creating potential "negative spill-over effects" for capital ratios as banks would be forced to mark their holdings at market value, JPMorgan Chase & Co. analysts led by Kian Abouhossein wrote in a July 2 report.
"A Greek euro exit would have the most negative impact on Italian and Iberian banks," they said.
While the likelihood of a Greek euro exit increased after Sunday's vote, central bank action could reduce bond price moves on peripheral bonds, said Paul Smillie, a Singapore-based analyst at Columbia Threadneedle Investments, which manages about $200 billion in fixed-income assets.
European Bonds
A slump in bonds may also affect investment banks, said Stefano Girola, who helps manage about 25 billion euros at Syz Asset Management SA in Lugano, Switzerland. Deutsche Bank AG, BNP Paribas SA and Societe Generale are most exposed to a risk of losses from bond trading, he said.
"There will be lots of volatility post this election result," David Herro, chief investment officer of Harris Associates, which oversees about $135 billion said by e-mail. Short-term volatility will lead to lower stock prices, he said.
Any sudden move in foreign-exchange or bond trading would hurt investors like asset managers, insurers and pension funds most because stricter rules limit investment banks' ability to keep stockpiles of fixed-income securities on their balance sheet, said Emmanuel Dooseman, a partner at audit firm Mazars.
Greek Banks
"In the past, banks took some losses in case of a shock, but today market makers have reduced the size of portfolios, and any shock would primarily increase price volatility in the markets with impact for investment banks likely limited," Dooseman said.
Among foreign banks with the largest exposure to Greece, HSBC Holdings Plc had 5 billion euros of risks stemming from the Greek economy at the end of 2014, Berenberg wrote in a note to clients June 22. Credit Agricole SA held 200 million euros of Greek loans at the end of December and $3.3 billion of dollar-denominated shipping loans, bank statements show.
Greek banks closed Monday and daily cash withdrawals at ATMs were capped at 60 euros last week after a run on deposits accelerated in the run-up to the referendum.
"The Greek banks are still shut, they're going to remain shut and we'd be surprised if they reopen on Tuesday," said Paul McNamara, an investment director in London at GAM, which has $127 billion in assets.
Before it's here, it's on the Bloomberg Terminal.
LEARN MORE