With all the talk about "the Swiss watch industry," it's easy to forget that not every ticking mechanism is born in the Alps. In the early 20th century, Bulova was making watches in New York and the surrounding area, including this incredible little time capsule.
Bulova was founded back in 1875 and has been based in the borough of Queens for most of its history; today, under the ownership of Japanese watchmaker Citizen, its current world headquarters are in the Empire State Building. Though movements were made in Switzerland as early as 1912, Bulova had a case factory in Sag Harbor, New York, that is now a residential complex, and a watchmaking school at its Queens factory that worked with local schools to train up young professionals. It's a true American watchmaker through and through.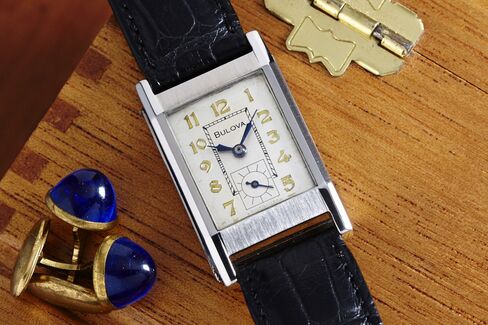 This vintage find, simply called a Reference 45, dates to approximately 1932 and looks every bit the part: long and rectangular. (Remember, this the same era that gave us the Cartier Tank.) 38mm wide by 22mm long with arched lugs and faceted case, the watch has a bit of a curved look. The ornate hands are what's called "lozenge-shaped," and they're a bright blue that stands out against the creamy dial.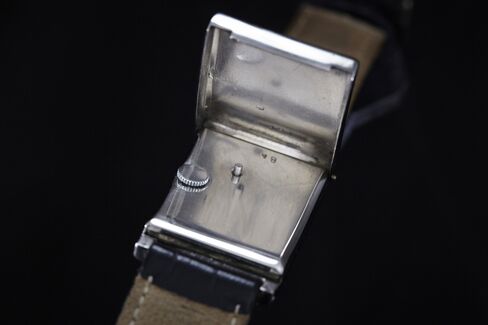 You might be wondering where the crown is on this watch. No, it's not a crown-less Ressence, it's just tucked away. But where?
Underneath the hinged caseback is a small knurled crown along the edge and a tiny button too. Turning the crown adjusts the time, but pushing that little button winds the caliber 7AP movement inside. Theoretically, the outer caseback will press the plunger over and over as you wear the watch throughout the day, making this a sort of semi-automatic movement. I've never used one of these myself, so I can't speak to the usefulness, but it's a great concept.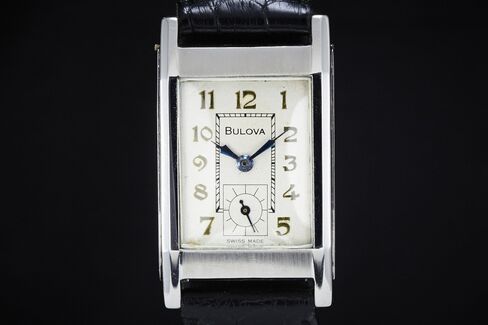 The only downside to the innovative mechanism is that the extra caseback makes the watch thicker than it would be if purely manually wound, but it's not too much.
The case is in good condition, still showing a mixture of brushed and polished finishes, and the dial has pretty even color for something that's 80-years-old. The scrolling Arabic numerals might look like discolored tritium in these photographs, but they're actually applied yellow gold with a polished finish.
If you're looking for a modestly priced piece of watchmaking history, I found it for you.
This Bulova Reference 48 is available at Analog/Shift and is price is on request only.
Before it's here, it's on the Bloomberg Terminal.
LEARN MORE