Iran Talks Breakthrough Seen as UN Expects End to Military Probe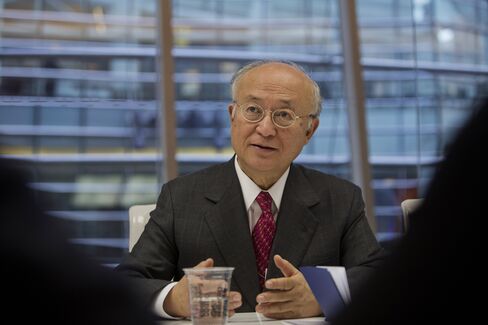 United Nations monitors say they'll be able to assess the possible military aspects of Iran's past nuclear program by December, overcoming one of the last remaining hurdles to a deal between world powers and the Islamic Republic.
International Atomic Energy Agency director general Yukiya Amano rejoined negotiators from six world powers and Iran on Saturday in Vienna. Bringing the 12-year investigation into Iran's possible military work to an end would pave the way for Iranian sanctions relief under an agreement that would curb the country's nuclear program.
"With the cooperation of Iran, I believe we can issue a report by the end of the year," Amano told reporters. "Progress was made on the way forward."
Diplomats have postponed their deadline for an accord to July 7, and all sides are signaling that the goal is within reach.
"This is a breakthrough in the Iran-IAEA process and will hopefully contribute to finalizing a key sticking point," said Kelsey Davenport, director of non-proliferation at the Arms Control Association, in an interview in Vienna. "This is indicative of Iran and the IAEA making progress."
While Amano has previously said he's willing to ''accelerate'' the IAEA probe into Iran's past, it's the first time he's given a specific timeframe for when his inspectors can conclude their investigation.
Sanctions Relief
Iran has been pushing to accelerate U.S. and European sanctions relief with just three days left to reach an agreement in the Austrian capital.
Negotiators haven't yet agreed on the scale and speed of sanctions relief, nor have they settled all the steps Iran must take, according to four diplomats from countries participating in the negotiations. They asked not to be named in line with rules. One said Iran may get substantial sanctions relief by December, while others said sanctions lifting may not occur until 2016.
"At this 11th hour, despite some differences that remain, we have never been closer to a lasting outcome," Iranian Foreign Minister Mohammad Javad Zarif said in a video released Friday and filmed on a terrace at the Palais Coburg, where the talks are being held. The foreign minister earlier told the Al Monitor website that "the deal will be made or broken on whether the United States wants to lift the sanctions or keep them."
Foreign ministers including France's Laurent Fabius are expected to return Sunday for the final round of talks. U.S. Secretary of State John Kerry, in his eighth day in Vienna, would need to submit a possible deal to Congress by July 9 in order to streamline implementation of the accord.
Before it's here, it's on the Bloomberg Terminal.
LEARN MORE