Tunisia Calls 30-Day State of Emergency After Beach Attack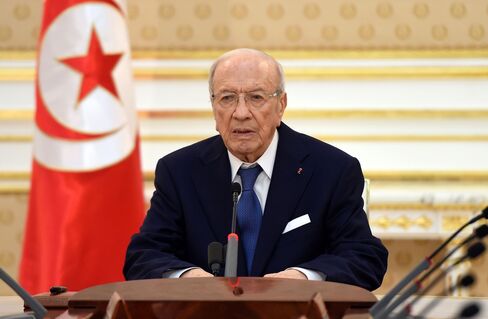 Tunisian President Beji Caid Essebsi declared a 30-day state of emergency, saying the country is "not safe" after the killing of 38 people at a beachfront resort.
"The extraordinary circumstance in Tunisia after the last terrorist attack and other continuous threats put the country in a state of war," Essebsi said in a nationally televised address. "We have declared a state of emergency."
The north African nation has been on heightened alert since a gunman with links to Libyan militants attacked mostly British vacationers at the resort on June 26.
The attack in Sousse, claimed by Islamic State, was the worst assault on tourists in the country's history and threatened an industry that provides jobs for about 15 percent of the workforce.
"We need foreign investments but don't currently have a safe atmosphere for that," Essebsi said.
The attacks on tourists in Tunisia are "credit negative" by threatening the nation's economic outlook, investment activity and travel industry, a key component of GDP, the ratings agency Moody's said on July 1.
Tunisian officials said the Sousse gunman, identified as Seifeddine Rezgui, had trained in Libya at the same time as the militants who carried out an attack on the Bardo National Museum in Tunis in March that killed more than 20 people.
The connection highlights the risks Tunisia faces as its larger neighbor descends into anarchy, with rival governments fighting each other as well as Islamic State militants looking to use the oil producer as a springboard for attacks in Europe.
"We used to only face terrorism in mountains, but the enemy moved to our cities," Essebsi said.
Before it's here, it's on the Bloomberg Terminal.
LEARN MORE