Brazil Officials' Phones Monitored by U.S., WikiLeaks Says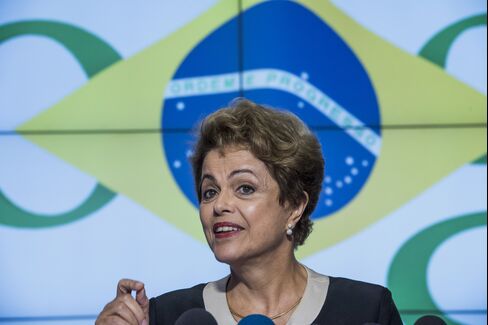 The U.S. National Security Agency monitored the phone numbers of top Brazilian officials, WikiLeaks said, less than a week after President Dilma Rousseff visited the U.S. to mend relations derailed by earlier spying accusations.
The 29 phone numbers selected for "intensive interception" included those of Rousseff aides, members of Brazil's finance ministry, diplomats and even the satellite phone on Rousseff's private jet, WikiLeaks said in a report titled "Bugging Brazil" posted on Saturday. WikiLeaks didn't say when the phones were monitored, and the officials' listed positions correspond to posts held during Rousseff's first term, which ended in 2014.
Saturday's report is a fresh reminder of why Rousseff canceled her state visit to the U.S. in 2013 after the NSA's monitoring of her communications came to light. It also follows just weeks after U.S. spying revelations in France. Rousseff's trip to the U.S. in June came as her government seeks investors for infrastructure projects worth tens of billions of dollars to help recharge growth of Latin America's largest economy.
Rousseff considers the spying episode to have been "overcome," and she trusts in President Barack Obama and the commitment he has made on that topic, according to a statement published on the website of the presidential palace on Saturday. The U.S. and Brazil will make their strategic partnership ever stronger, according to the statement.
'Economic Espionage'
Brazil's central bank and the Planning Ministry declined to comment on the WikiLeaks report.
The NSA deferred a request for comment to the National Security Council, which declined to comment, pointing to previous general statements on Brazil spying.
Among the Brazilian officials listed by WikiLeaks as having been targeted for monitoring were Luiz Awazu Pereira, a former director of international affairs at Brazil's central bank and now director of economic policy; members of the Finance Ministry, including then-executive secretary Nelson Barbosa, who is now planning minister; and Rousseff's former chief of staff Antonio Palocci.
"The US targeted not only those closest to the President, but waged an economic espionage campaign against Brazil, spying on those responsible for managing Brazil's economy," WikiLeaks said.
'Friendly Countries'
WikiLeaks didn't say when or if the NSA intercepted calls on the targeted phone numbers. Other numbers include that of Luiz Alberto Figueiredo, formerly Brazil's ambassador to the United Nations who was then Foreign Minister and is currently ambassador to U.S., as well as former Brazilian ambassadors to Germany and France, and other members of foreign affairs ministry.
"President Obama and the U.S. government have declared, on several occasions, that they would no longer have acts of intrusion upon friendly countries," Rousseff said in Washington June 30, according to a transcript. "I believe President Obama and, what's more, he told me that when he wants -- should he ever need non-public information about Brazil, he will call me."
Saturday's report follows recent revelations by WikiLeaks that the U.S. monitored discussions that the French government had on the Greek debt crisis, which drew swift condemnation from France, and may have spied on Germany's economy, finance and agriculture ministries for years.
Before it's here, it's on the Bloomberg Terminal.
LEARN MORE