Greece's Crisis Reverberates in Polish Election Spending Debate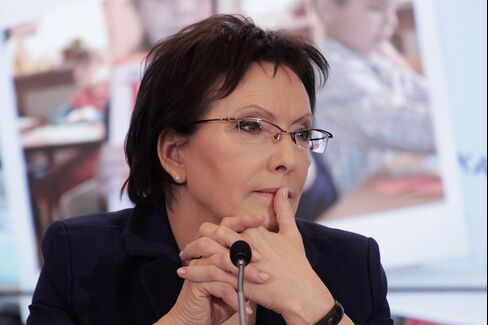 The specter of Greece is haunting Polish politics three months before parliamentary elections that polls show may sweep the opposition to power for the first time in almost a decade.
The ruling Civic Platform and its top challenger, Law & Justice, are staking a claim as the best bulwark against the kind of mistakes that brought Greece to the brink of financial collapse. At stake is the top post in the only European Union economy to avoid a recession since 2007.
While Law & Justice leader Beata Szydlo has focused on the risks posed by euro adoption, Prime Minister Ewa Kopacz warned on Saturday that opposition politicians are "making spending promises they can't keep" and the plans threaten a repeat of the crisis unfolding in Greece. Szydlo used her party's convention in Katowice, the biggest city in the coal-rich region of Silesia in southern Poland, to lay out Law & Justice's fiscal plans and face down the criticism.
"There is an attempt to show that when we come to power, we're going to get a second Greece here," she said. "But I'm not afraid of that because when people will have work, then public finances will be secure, there will be money in the budget and households will have an opportunity to think about their future."
Building Momentum
Greeks are set to vote in a referendum on Sunday which may determine whether the country stays in the euro area after the government missed its payment to the International Monetary Fund, imposed capital controls and closed banks to stem economic collapse.
Szydlo is trying to build on the momentum her party's gained after the Law & Justice candidate delivered during a presidential election in May. The party is leading Civic Platform by about 10 percentage points in recent opinion polls.
She said her party's top three spending promises, which include payouts for more than one child, lowering the retirement age and higher tax-free allowance, will cost 39 billion zloty ($10 billion) a year. She also identified five sources of funding to raise 73 billion zloty to meet those goals and have "some more left."
Szydlo outlined plans to cut the value-added tax rate to 22 percent and lower a levy on small and medium-sized businesses to 15 percent.
Investment Cost
"What we are proposing is not a cost, but investment in the budgets of Polish households and families, the growth of Polish companies," she said at her party's congress. "Those in power are asking: who are you going to take away from to give to others? And we say: we won't be taking away from anyone. We just want to make sure there is enough for everybody."
Szydlo said the zloty serves the Polish economy well and the euro won't be adopted until the country's wages rise to the EU's average level before the bloc began expanding its eastern borders. Poland would end up like Greece if it adopts the euro, she said on Thursday.
Poland has abandoned its target date for adopting the euro following the currency bloc's sovereign-debt crisis. The ruling party's current stance is to delay the currency switch until the euro area successfully pulls through. Poland will also need to change its constitution to allow for euro adoption, which may be tricky with the opposition so adamantly against the plan.
The zloty, which lost 2.8 percent against the euro last quarter, was little changed at 4.1917 in Warsaw on Friday.
'Cautionary Tale'
Kopacz last week said her government has a plan to cut taxes that "won't throw public finances off balance." The prime minister, who met her council of economic advisers on Saturday, tried to keep the focus squarely on her opponent's spending.
"Greece is a big cautionary tale for Poland," Kopacz said. "Greeks have been cheated. I don't want an election campaign to be a time when someone is trying to cheat Poles. I won't allow it."
Poland last month got a reprieve from EU budget monitoring after reducing its fiscal deficit near the bloc's limit of 3 percent of economic output last year from as much as 7.8 percent in 2010. The country's public debt fell to 50.2 percent of gross domestic product last year from 55.7 percent in 2013. That compares with Greece's government debt ratio of more than 177 percent in 2014, according to the IMF.
Before it's here, it's on the Bloomberg Terminal.
LEARN MORE